Calgary hockey parents are crying foul after a victory at a minor hockey tournament over the weekend was decided by a coin toss.
Saturday's AA Bantam quarter-final city championship game between the Calgary Royals and Calgary Buffalo Wranglers ended in a 4-4 tie after a full three periods, reported the Calgary Herald.
But instead of being allowed overtime, the game went straight to a three-player shootout, where no one scored.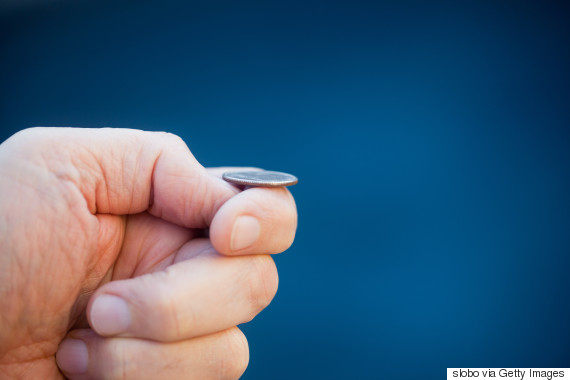 It was a pretty important game and this is how it ended. (Photo: Gettystock)
To determine a winner, officials left it to a "heads or tails" call — which the Wranglers won, sending them to the next round of playoffs.
According to Hockey Calgary rules, the game should have proceeded to a short overtime before the shootout.
But Royals head coach Jarvis Bender told Global News a scheduling error left no allowance for overtime, and when the teams requested extended time on the ice, they were told by the arena it couldn't be accommodated.
"For a facility that preaches development of young athletes, for them not to push a time back 15 minutes is inexcusable," Bender told Global, criticizing staff at WinSport arena, where the tournament was held.
"For them not to push a time back 15 minutes is inexcusable."
"The toughest part for me was to tell 19 teenagers that all their hard work and dedication for the season was decided not by their skill but by a coin toss," Bender said.
Shoutout to Blue for a great season, you guys a very solid team, keep your heads up... hockey shouldn't end that way. #RoyalsFamily

— Bantam AA White (@RoyalsWhite) March 19, 2017
Hockey Calgary's rules state that "every attempt will be made to not allow playoff games to end in a tie."
However, if a tied overtime playoff game "cannot be concluded due to unforeseen circumstances," the rules allow members of the Elite Council to choose a tie-breaking format.
Hockey dad David Black told Global he was at the game and that "people were very angry."
"Parents pay hundreds of dollars and watch an entire season to see it decided by coin toss?"
Some parents and minor hockey fans took to social media to express their disappointment in the decision.
A Coin Toss? Really?? https://t.co/a9GWPPuele. #LowTierProblems

— Typical Hockey Dad (@LowTierProblems) March 19, 2017
@hockeycalgary are you kidding? A coin toss to decide a city champion? 5 minutes for a shootout - max!. #winsport #really

— Mark McNevin (@hockeyrocks21) March 20, 2017
Shame on you Hockey Calgary and Winsport,AA Bantam playoff game decided by a COIN TOSS!!!! Disgusting! #hockeycalgary #winsport

— Shelley Eddy (@EddyShelley) March 19, 2017
Others, however, pointed out that the arena is operating a business and has to stick to its schedule.
"It sucks for the kids but this is (standard operating procedure) for tiebreakers in amateur sports," wrote one commenter on the popular hockey forum, Calgarypuck.com. "This isn't the NHL. An arena isn't going to screw over other customers so that these kids get to play past their allotted time."
"There would have been a rep from the AA council supervising the game. This was done by the book. Hockey Calgary, and especially the AA council, doesn't mess around," wrote another.
Also on HuffPost