Almost half of Canadians think migrants and refugees who illegally cross into Canada at the U.S. border should be sent back to the states, according to a Reuters/Ipsos poll released Monday.
Just over one-third of respondents (36 per cent) felt Canada should accept undocumented migrants and allow them to seek refugee status, while 48 per cent said they want to see an increase in deportations.
A separate Reuters/Ipsos poll found Americans feel similarly about illegal immigration, with 50 per cent of adults supporting deportation.
Nearly half (46 per cent) also said they disapprove of how Prime Minister Justin Trudeau's government is handling the issue of illegal border crossings.
"One of the reasons why Canada remains an open country is Canadians have confidence in our immigration system, the integrity of our borders, and the help we provide people who are seeking relief and a better life," Trudeau said on Feb. 21 during question period.
"We will continue to strike that balance between having a rigorous system and accepting those who are in need."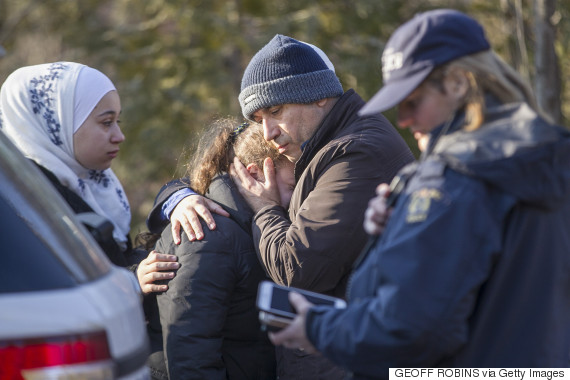 A man from Syria hugs his daughter after they were detained by the RCMP as they illegally crossed the U.S.-Canada border near Hemmingford, Que., on Feb. 28, 2017. (Photo: Geoff Robins/AFP/Getty)
Canada Border Services Agency (CBSA) told CBC News 2,176 people made asylum claims in the first two months of 2017 — a number which includes those who illegally crossed and were later allowed to make a claim, as well as those who legally made claims at crossings.
In Manitoba alone, RCMP picked up 143 people who snuck across the Canada-U.S. border in January and February. There are no exact statistics available on exactly how many asylum seekers have crossed the border illegally.
Those polled were split over whether or not illegal border crossers would make Canada less safe.
Forty-six per cent said illegal immigration makes no difference to Canada's safety, while 41 per cent felt it would make the country less safe. Four per cent said it would make Canada more safe.
Reuters/Ipsos polled 1,001 Canadian adults online in English and French in March. The poll has a credibility interval of four per cent.
The number of asylum seekers who have illegally cross at Canada's land borders may have something to do with the country's immigration process.
If they try to enter at a legal border crossing, they will be turned away unless they are exempt under the Safe Third Country act (for example, if they have a close relative in Canada) and told to apply for refugee status in the U.S.
But if an asylum seeker crosses illegally, they will be detained, sent to the CBSA, and possibly given the opportunity to file a claim with the Immigration and Refugee Board.
Follow The Huffington Post Canada on Facebook, Twitter, and Instagram.
Also on HuffPost
RCMP Officers Help Refugee Claimants Into Canada From U.S. Border