OTTAWA — Opposition parties, Canada's airlines and some of the country's major airports are sounding the alarm over the Liberal government's interest in privatizing some of the country's terminals and landing strips, warning it will lead to higher fees for travellers.
The plan won't be in Wednesday's budget, Huffington Post Canada has learned, but the federal government is still considering raising billions through the selling of such public assets.
In the House of Commons Monday, Conservative deputy leader leader Denis Lebel accused Prime Minister Justin Trudeau of trying to "save face" by selling off Canada's airports to help pay for the Liberals' large deficits.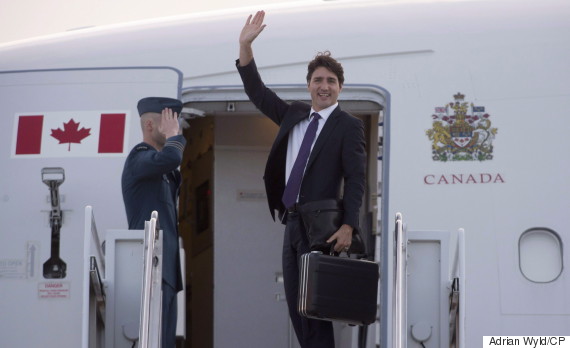 Prime Minister Justin Trudeau boards a government plane as he departs for Africa on Nov. 23, 2016 in Ottawa. (Photo: Adrian Wyld/The Canadian Press)
"It's like if a family sold their appliances to pay their credit card bills, it doesn't make any sense. Is that something that we are going to see in the budget?" he asked.
"[Lebel] will see on Wednesday, like all Canadians, that in this budget we are going to invest in middle-class growth, we will invest in the future of our country — that's what Canadians expect," Trudeau responded.
NDP Leader Thomas Mulcair also demanded to know what Trudeau has in store for airports.
"I'm wondering if the prime minister could show Canadians exactly where in the Liberals' election platform this was ever mentioned?"
"It's like if a family sold their appliances to pay their credit card bills, it doesn't make any sense."
— Tory critic Denis Lebel
Since the Liberals never suggested they would privatize the airports during the 2015 election campaign, Mulcair asked Trudeau to guarantee that he wouldn't touch the the public infrastructure.
The prime minister dodged the question again.
Transport Minister Marc Garneau also tiptoed around the question, telling reporters that Canadians want an efficient air system, and that is what is motivating the government.
"Everything that we can do to offer them more choices at a lower cost with better service and a system of rights, that is what motivates us," he said.
On Tuesday, the Tories plan to use their opposition day to call on the government to ensure the budget includes no plan to sell Canadian airports if it involves higher fees for taxpayers and travellers, if the revenue will fund a new infrastructure bank, or if individuals or companies buy them who are under the influence of foreign governments.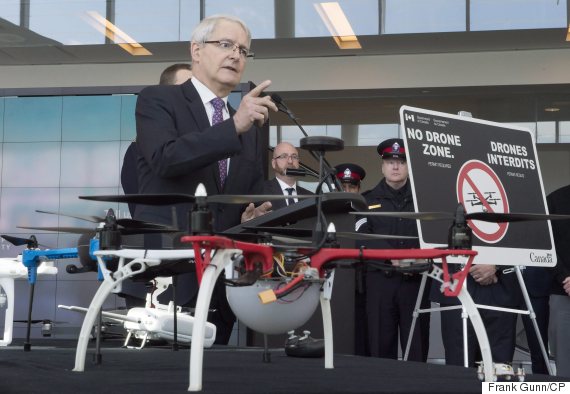 Transport Minister Marc Garneau announces new safety restrictions on recreational drones at Billy Bishop airport in Toronto on March 16, 2017. (Photo: Frank Gunn/The Canadian Press)
Conservative transport critic Kelly Block said she worries the Liberals are being evasive about their plans. Last fall, the federal government asked Credit Suisse to study how much money it could raise by privatizing eight airports in Toronto, Vancouver, Montreal, Calgary, Edmonton, Ottawa, Winnipeg and Halifax.
Since then, Block has asked the government for the study's finding but has yet to receive a response.
The Tory MP said she believes privatization will lead to higher fees for travellers. The Conservatives, as a caucus, haven't discussed whether they are against selling Canada's airports. Leadership candidate Maxime Bernier, for one, is in favour.
Green Party Leader Elizabeth May called privatization a terrible idea. "We would see costs going up," she said "A profit motive and private ownership is not something you really want in your transport infrastructure."
Cullen opposes selling even a minority stake
NDP deputy finance critic Nathan Cullen told HuffPost he opposes selling even a minority stake, "because they always turn into a majority over time."
"Investors only go in to make money and eventually to have control," he said.
Many of Canada's airports and major airlines also believe privatization will increase ticket prices and discourage air travel.
Mark Laroche, president and CEO of the Ottawa International Airport Authority, is adamantly opposed to to the idea and argues the current structure — in place since 1992, by which the major airports are run as private not-for-profit companies that pay rent to the federal government, which continues to own the land — works well.
"All the fees that we collect are reinjected into the operation and maintenance of the airports," he said. "Basically, we are concerned that if we go to a for-profit model, a portion will be set aside to provide a return to the shareholder, and that would basically result in higher fees to the air travellers."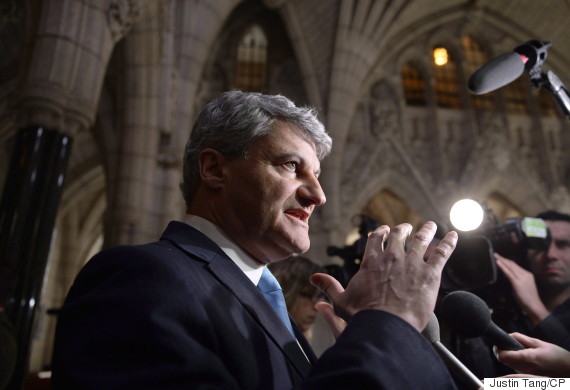 Conservative MP Gerard Deltell speaks to reporters following a caucus meeting on Parliament Hill on Feb. 8, 2017. (Photo: Justin Tang/The Canadian Press)
Laroche pointed to the privatization experience at Heathrow airport in London and in Australia, noting how those airports have some of the highest fees in the world.
"Airports are natural monopolies," he said. "The only people who seem to be seeing benefits is the minister of finance and the consultants that they hired to make recommendations."
Every year, Laroche said, Transport Canada issues new regulations that provide an opportunity for airports to raise fees if they need to invest more in security, for example.
More expensive for consumers?
Craig Richmond, the president and CEO of the Vancouver Airport Authority, also opposes privatization. Canada has some of the most efficient run airports in the world, he said, and selling them for a "one time infusion of capital" would mean adding extra costs that would be passed on to passengers and airlines and decrease the airports' competitiveness and the services offered.
WestJet is also opposed. "Our view is privatization will only make it more expensive for consumers to fly," spokeswoman Lauren Stewart told HuffPost.
Whether Ottawa retains ownership or a portion is sold to the private sector, Stewart added, WestJet wants to see third-party regulatory oversight of airport spending and fees so that consumers can be protected.
Air Canada president and CEO Calin Rovinescu also complained that privatization would drive up the cost for airlines and passengers.
A big problem, Rovinescu argued recently in a speech at the Canadian Club in Ottawa, is that while airlines have dropped ticket prices, this has gone unnoticed because of high airport fees, navigation fees, taxes, and passenger charges that account for, in some cases, for 60 per cent of the total fare.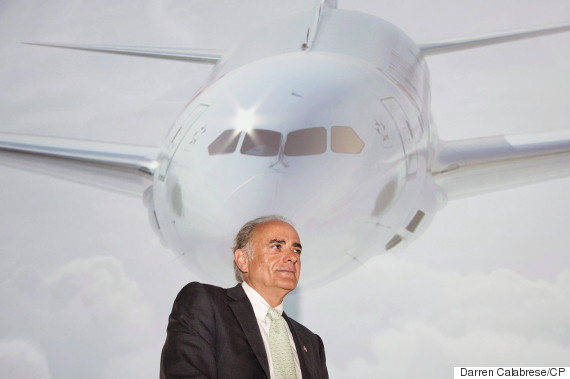 Air Canada CEO Calin Rovinescu is shown in Toronto on May 12, 2015. (Photo: Darren Calabrese/The Canadian Press)
That drives up the cost of travel substantially, he said, leading many Canadians to cross the border to Plattsburgh, N.Y., to Buffalo or to Seattle to get on cheaper flights.
Plattsburgh actually advertises itself as "Montreal's U.S. Airport."
"Any form of airport privatization in Canada — and any imposition of a carbon tax on domestic fuel emissions — would only worsen this problem," Rovinescu said.
"Infrastructure investors are in the business of maximizing profits for their shareholders, which will in turn mean higher costs passed onto users — airlines and their customers. This can be expected to result in higher user fees, possibly diminished services, or both, as the new owners seek to expand margins," he said.
The sky won't fall: expert
Alexandre Moreau, a public policy analyst with the Montreal Economic Institute, disagrees.
He told HuffPost the sky won't fall if Ottawa sells the airports to private interests, and, he believes, travellers may end up saving money. Ottawa currently collects approximately $305 million in rent annually from airports. That, he said, is about 12 per cent of the airports' gross income handed over to the federal government whereas a for-profit company would probably pay a combined tax rate of only 35 per cent on its profit, "which is a way lower number."
"This is a huge burden for the airports, and ultimately, they have to charge higher landing fees to the airlines, and eventually those costs are passed along to consumers," he said.
Despite being monopolies, airports have an interest in ensuring that they don't price themselves too high, because they make about 30 to 40 per cent of their income through restaurant and store leases and parking, he added.
"They could double the tariffs tomorrow morning, but they are not going to do this because if they do this there will be less passengers and if there is less passengers, there will be less spending inside the airport buildings," he said.
Ex-minister pushes privatization
In 2014, Stephen Harper's Conservative government asked former cabinet minister David Emerson to review the Canada Transportation Act. In his report, published by the Liberals last summer, Emerson recommends privatization as a way of ensuring that Canada's airports are more competitive in the future.
He said excessively high fees are a major reason Canada has no ultra-low cost carrier. Airport rents can represent up to 30 per cent of an airport's operating budget, he wrote.
"Canada has collected approximately $5 billion in airport rent since 1992, already well in excess of the value of the assets originally transferred, and is estimated to collect at least $12 billion more over the next 40 years."
Jacques Roy, a professor at HEC Montreal, said he doesn't think privatization will make the airports more competitive, but neither does he think it will prevent people from flying.
"They are not crazy, they will not raise the fees to the extent that people cease travelling or that they will move south of the border to board flights in the U.S. airports."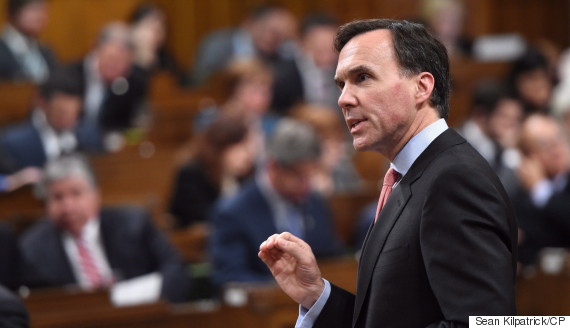 Finance Minister Bill Morneau speaks during question period in the House of Commons on Parliament Hill on March 7, 2017. (Photo: Sean Kilpatrick/The Canadian Press)
But some airports, especially those saddled with debt, such as Montreal-Trudeau airport, might welcome privatization, he said.
Under their lease agreement, airport authorities are required to return the infrastructure in good condition and free of debt before their lease expires. "That means that 20 years before the deadline, they will have to stop borrowing money and stop spending," he said. "This is what is actually scaring some airport authorities…. They look for a way out, and the way out is privatization."
In Montreal, Roy said, the deadline is 2072, he said. The airport is billions in debt and has signalled it supports the idea of privatization.
Canada's current system should be reformed, Roy said, but a simple solution is that airports should just stop gouging customers through excessively high fees.
'Airports can be cash cows'
Canada, for example, ranks 130th among 138 countries for ticket taxes and airport charges, in a 2015 report by the World Economic Forum said. The United States, however, is only 128th, and Australia is 127th.
"Most passengers don't even realize that they are paying such fees because it is hidden in the airline ticket and most people think it is a government tax that they pay, which is not the case."
The private not-for-profit airport authorities raise fees as they wish with no accountability, he said. "It must be fun to be in a position where you can raise taxes in a monopoly and don't have to ask any permission and don't have to be held accountable. It's great. No wonder they like the existing situation."
Independent Senate Liberal Dennis Dawson, who chairs the Senate's Transport and Communications committee, which issued a report on air travel in 2012, told HuffPost there is no evidence that privatization would benefit the taxpayer.
"Airports can be cash cows, and pension funds can make a lot of money," he said. "But they are not driven by service, they are not going to make air travel better for Canadians; they are motivated by making money."
No political downside?
The problem in Canada, Dawson said, is that governments view airports as a source of revenue rather than as a source of economic development.
He predicts the Trudeau government will move towards privatization.
"There is no political downside. People didn't care when we did the report, and people still won't care if the government decides to privatize," he said.
"If I was an adviser to the minister of finance, I would say: 'Here are a few billion dollars you can get with no strong political downsides. People are not sensitive to this.'"
CORRECTION: An earlier version of this story misspelled Alexandre Moreau's last name.
Also on HuffPost
Photo gallery
The Top Ways To Score Cheap Flights
See Gallery