A Montreal-area man said he's thankful his girlfriend was with him during an alleged racial profiling incident with police earlier this month because she's white.
Andrew Denis-Lynch, a 26-year-old actor from Kirkland, Que. had been driving his girlfriend and her sister home to nearby Cote-des-Neiges after getting some ice cream from McDonald's. He stepped out of the car to do a little dance to cheer her up.
Suddenly, a police cruiser pulled up. An officer got out of the car and asked him why he was so happy.
"I responded by saying because I'm in a good mood and I have ice cream," Denis-Lynch told Global News.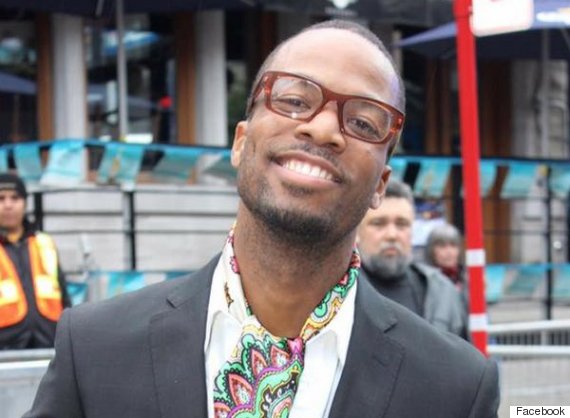 Andrew Denis-Lynch had stepped out of his car to dance and cheer up his girlfriend when police arrived. (Photo: Facebook)
Denis-Lynch told officers he wanted to make his girlfriend laugh, according to the Montreal Gazette.
A barrage of questions followed— what's your name? Is that your car? Are you drunk?
Denis-Lynch said he doesn't drink, and answered the rest of their questions, according to Global.
When officers asserted he was dancing in the middle of the street, Denis-Lynch insisted he was dancing right next to his girlfriend's car.
'I figured it was because he was black'
According to CTV Montreal, the situation escalated in minutes, and one of the officers called for backup. Five more police cars arrived minutes later.
Helena Backa, Denis-Lynch's girlfriend, described the situation as "really scary."
"It happened in 2-3 seconds but the way (one officer) grabbed him, her facial expression, her tone of voice, she was shouting," Backa said.
She told the Gazette the call for backup was "excessive."
"Thankfully, my girlfriend, she's white, because it could have went down as a different situation, if I was alone."
—Andrew Denis-Lynch
Officers eventually gave Denis-Lynch a $48 ticket "for being a pedestrian and standing on the roadway to deal with the occupant of a vehicle."
Denis-Lynch told Global he was scared for his safety during the incident, which he and his girlfriend believe was a case of racial profiling.
"Thankfully, my girlfriend, she's white, because it could have went down as a different situation, if I was alone," he said.
The executive director of the Center for Research-Action on Race Relations (CRARR) told CBC News they've received a series of complaints about threatening encounters between police and black Montrealers since January.
Montreal police under fire
The Montreal police force is currently under two investigations about internal affairs officers making up evidence to silence whistleblowers.
"There should be questions asked about whether these incidents are a manifestation of the lack of leadership ... the lack of internal control and internal accountability over how police officers deal with young black men out in the streets," Fo Niemi said at a news conference Sunday.
Although the incident happened March 7, Denis-Lynch said he wanted to go public with his story to raise awareness about racial profiling, according to the Gazette.
"Enough is enough," he told the newspaper, adding he wants to see things change.
Montreal police declined HuffPost Canada's request for comment on the incident.
Also on HuffPost
The Most Outrageous Stories Of Police Misconduct