It's safe to say there's no shortage of people who wish they could oust U.S. President Donald Trump from power.
Now, thanks to one Calgary company, you can role-play that fantasy and take down The Donald.
Confined Escape, a company specializing in escape room scenarios, has launched a new Trump-themed experience.
Billed as a way to "make escape rooms great again," players are ushered into a room designed to look like the lobby of Trump Tower. Bernie Sanders appears, asking players to "take The Donald down."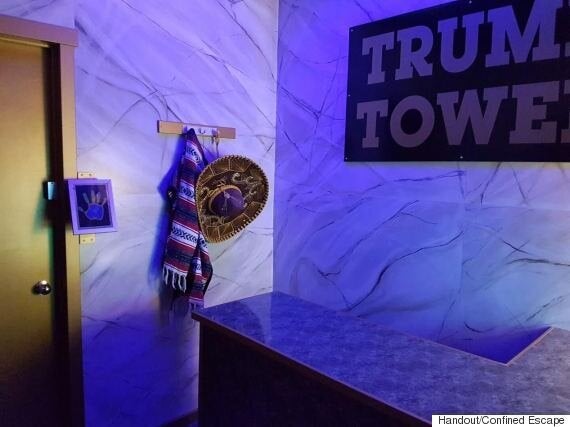 Alyson Turnbull, who runs social media and marketing for Confined Escape, told The Huffington Post Canada her team came up with the idea last summer while they were trying to drum up media attention for their newly-opened business.
"We talked to one reporter (at Global News) and he was told us there were already so many escape rooms and that just opening wasn't enough for a story. He said 'let me know if you ever open a Trump room, or something,'" she said, laughing.
But that journalist's suggestion set the wheels in motion.
"We started to think about doing a room set in an alternate universe, where Donald Trump was president," she said.
"But then he got elected for real, and we had to adjust to the current reality."
"We are going to have an unbelievable, perhaps record-setting turnout for the opening of this room, and there will be plenty of movie and entertainment stars," Confined Escape posted on Instagram to promote the room's March 13 opening, mocking the president's distinct style of speaking.
"All the dress shops are sold out. It's hard to find a great dress for the opening of this escape room."
Turnbull says the room has been an *ahem* "yuuuuge" hit and that participants find it "hilarious."
"(Trump as president) is something we don't have any control over. But, I think as Canadians, we try to have a laugh at it if we can't control it."