Constance Wu might be known as the hilarious Jessica Huang on ABC's "Fresh Off The Boat," but she's so much more than just an actress. The 35-year-old has proven time again that she's a feminist, activist and humanitarian who's not afraid to speak her mind.
Recently, Wu opened up about Hollywood's problem with stereotyping Asians.
"I'd always booked television work, but I'd always been in the supporting role, the best friend or the assistant to the white person," she told Allure for their April issue. "And I was grateful and happy for that. I wasn't forced to think about it, because I was placated to the point of satisfaction. But once I was in the lead role and other people started making such a big deal out of it, I realized I was previously blind to it."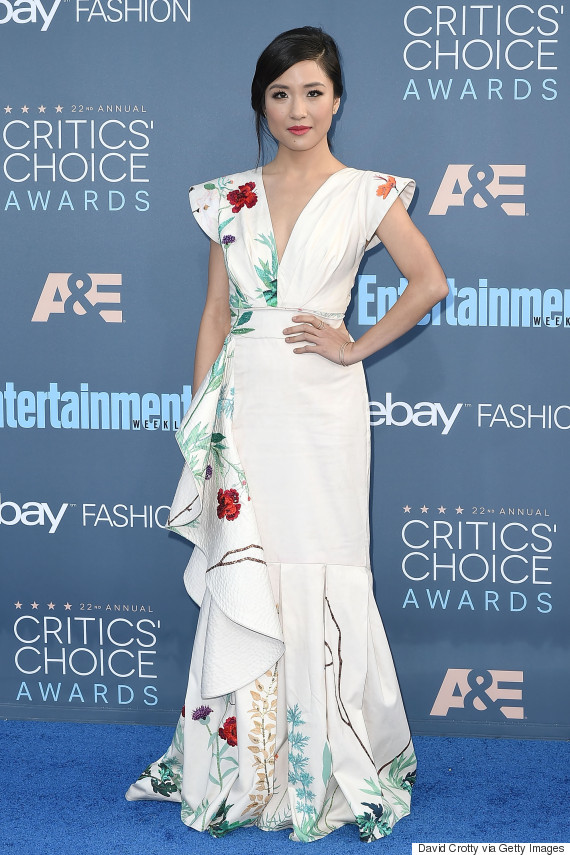 Constance Wu at the 22nd Annual Critics' Choice Awards in California.
Wu, who is Taiwanese-American, also mentioned that there is a "difference between the Asian experience and the Asian-American experience."
"[People] think that when I talk about Asian-American narratives that they can cite 'Crouching Tiger, Hidden Dragon' or 'Mulan' as proof of concept when it's a different experience... They aren't our stories."
"A lot of times people think of Asian culture as some mythical world, instead of modern people with modern occupations with modern problems, modern tools," she continued. "Like we're not all just talking Taoism and kung fu — some people are just trying to get over their breakup with their boyfriend, and they're Facebook stalking."
Wu isn't afraid to keep things real, which is one of the reasons why we love her. So, as we continue to celebrate women this month, here are five more reasons Wu is one kickass woman.
1. She's breaking barriers for Asians in Hollywood.
Besides starring in "Fresh Off The Boat" – the first TV show to feature an Asian-American family in 20 years – Wu has also nabbed the leading role in the upcoming film "Crazy Rich Asians." The movie, based off Kevin Kwan's bestselling book, will feature an all-Asian cast – another rarity in Hollywood.
Asians are seriously underrepresented in the media. According to 2016 statistics, 52 per cent of movies and TV shows do not feature any Asian characters at all, and to make matters worse, only one per cent of Asian actors land leading roles.
That's why Wu's casting credits are so significant and inspiring, and she recognizes that.
"It shines a light on how invisible Asians were previously in the industry. The fact that one show makes a person excited!" the actress told The Cut on the success of her sitcom. "If you watch any show that stars white people, white people aren't coming up to them like, 'Thank you for showing my face on the big screen.' Because they see their faces in popular culture all the time... We get one or two stories. So my biggest hope is that this gets the ball rolling in terms of different Asian American perspectives."
Wu is also not afraid to criticize Hollywood for its lack of diversity or issues with whitewashing. Last year, she called out a number of films for casting white actors in Asian roles or as white saviours, including "The Great Wall" and "Ghost In The Shell."
The actress also spoke about the lack of representation in Hollywood at a conference last April.
"A lot of people's visions of who they think looks like their hero is rooted in systemic racism," she said. "I don't think it is bad for them to be challenged to think outside their boxes... I don't think it will reduce their work for them to think, 'What if I cast this person as a Latina?'"
"The whitewashing will just continue and continue if [white filmmakers] become comfortable."
2. She gives the best life advice.
In an interview with Coalition of Asian Pacifics in Entertainment (CAPE), Wu shared words of wisdom to those trying to find success. "Make sure your work is never results-oriented," she said. "The result is a byproduct of the work in a way. [The goal] should be to create meaning by getting as close to the truth as possible in everything you do, whether it's a character you play, the choices you make."
She also spoke about failure: "If you're already feeling down, don't beat yourself up more for being down. Being down is a part of life. It's going to go away and it's going to come back. So just navigate it with grace and a little bit of courage and use it as an opportunity to find out more about yourself."
3. She'd give up her career before giving up her values.
Wu isn't afraid to stick up for what she believes in, even if that means losing her career.
After Casey Affleck was given a Best Actor Oscar nomination for "Manchester by the Sea" in January, Wu was one of the first to slam the Academy for recognizing someone who was previously accused of sexual harassment.
In a series of tweets, Wu wrote:
Men who sexually harass women 4 OSCAR! Bc good acting performance matters more than humanity,human integrity!Bc poor kid rly needs the help!

— Constance Wu (@ConstanceWu) January 24, 2017
Boys! BUY ur way out of trouble by settling out of court!Just do a good acting job,thats all that matters!bc Art isn't about humanity,right?

— Constance Wu (@ConstanceWu) January 24, 2017
Here's a thing I wrote during an convo w/ @PeterShinkoda about how Casey Affleck's win will be a nod to Trump's. pic.twitter.com/FjrRsniS9d

— Constance Wu (@ConstanceWu) January 24, 2017
In her final tweet, the "Fresh off the Boat" star boldly stated: "I've been counseled not to talk about this for career's sake. F my career then, I'm a woman & human first. That's what my craft is built on."
I've been counseled not to talk about this for career's sake. F my career then, I'm a woman & human first. That's what my craft is built on.

— Constance Wu (@ConstanceWu) January 24, 2017
Wu's stance isn't surprising considering she's a strong feminist and humanitarian.
In her interview with CAPE, Wu revealed why sticking to her values is so important: "If you always make sure your work comes from your values, then you don't have that emptiness, because your choices are dictated by a deep sense of who you are."
4. She always spreads positive vibes when the world needs it most.
Just days after President Donald Trump's inauguration, Wu shared an inspirational quote from "The Lord of the Rings" on Instagram to try and lift the spirits of her fans.
"News got you in despair?" she wrote. "Read these words from 'Lord of the Rings.' Have Fight in your heart and faith in your tribe. Stories are often in the middle or just beginning. And some Orcs are orange."
She's also known to share adorable photos of her pet rabbit, which would naturally brighten anyone's day.
5. She's not your token Asian.
Asians are often portrayed as socially awkward nerds or as the soft-spoken, submissive type, and Wu is neither of these things. In fact, she's quite the opposite of the stereotypical Asian and is incredibly outspoken.
"Because of my TV show, I suddenly have increased visibility. So the media's amplification of my voice is quite new," she told Teen Vogue last month. "But my voice and my passions are the same as they have always been since I was a teenager. I don't fear being outspoken. The only thing I fear is losing my sense of integrity, or losing sight of the values on which I guide my life."
Keep doing you, Constance!
Also on HuffPost