CALGARY — Enbridge Inc. says it is cutting about 1,000 jobs or six per cent of its workforce following the takeover of Houston-based Spectra Energy.
Calgary-based Enbridge says it is issuing the layoffs to address overlaps in the combined company's organizational structure after completing its acquisition of Spectra in late last month.
Company spokesman Todd Nogier did not provide details about where the cuts are happening, but says they're being done across the merged company.
When the C$37-billion, all-stock takeover was announced last September, the companies said they expected to achieve annual cost savings of C$540 million.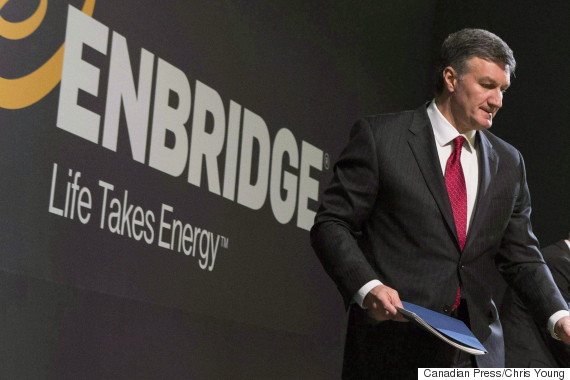 Enbridge CEO Al Monaco. (Photo: The Canadian Press/Chris Young)
At the time, Enbridge CEO Al Monaco said they would move forward quickly to cut costs, expecting about 60 per cent of those savings to happen this year and another 30 per cent in 2018.
Under the terms of the deal, Calgary became the headquarters of the combined company, while the Houston office became the company's gas pipelines business unit centre.
The latest job cuts come after Enbridge eliminated about 530 positions last October in Canada and the U.S. after an organizational review it said was started well before the Spectra deal was announced.
Also on HuffPost
Calgary's Energy Resilience