OTTAWA — The Liberal government is committing $101 million over five years to reduce violence against women, a highlight of a federal budget that promised to consider the way programs and policies impact different genders in different ways.
The money, beginning with $19 million this coming fiscal year is going to back up a federal strategy on gender-based violence that Status of Women Minister Maryam Monsef is expected to unveil in the coming weeks.
More details are coming later, but the budget tabled Wednesday said it will include setting up a "centre of excellence" within Status of Women Canada to co-ordinate efforts and also measures from the RCMP and the Defence Department.
The anti-violence initiative is part of a budget the Liberals are selling as having been designed with women in mind.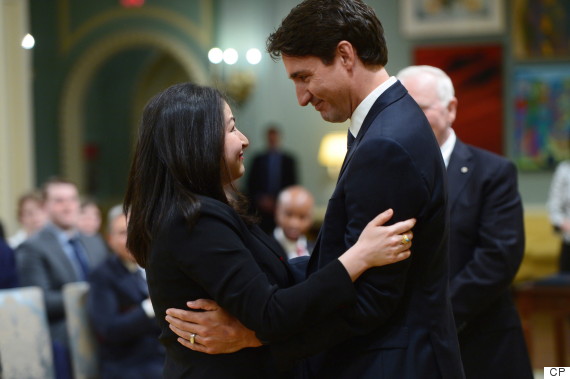 Maryam Monsef and Justin Trudeau embrace after she was sworn in as minister of Status of Women in January. (Photo: Sean Kilpatrick/Canadian Press)
This includes, for the first time in Canadian history, an element of gender-based analysis, which means examining how budgetary measures might produce different effects — both positive and negative — for women and men, or girls and boys.
Gender-based analysis also takes age, income, culture, ethnicity and other intersecting factors into account.
"The decisions we make, and the policies we create, impact men and women differently," Finance Minister Bill Morneau said in the House of Commons as he delivered the 2017 budget.
"We know, for example, that while Canadian companies are getting better when it comes to hiring more women, they're still less effective at promoting women to senior roles and we know that fewer women join or stay in the workforce than men," Morneau said. "That means that as a country, we aren't taking full advantage of the talents, insights and experience of more than half of our population."
The anti-violence initiative is part of a budget the Liberals are selling as having been designed with women in mind.
Prime Minister Justin Trudeau, who proudly calls himself a feminist, has argued gender equality makes good economic sense.
The budget backs that up by with measures aimed at increasing the number women entering the workforce or taking on full-time jobs.
That includes $7 billion over the next decade to increase access to affordable child care, the option to begin maternity leave earlier or extend parental leave to 18 months — at a lower benefit rate — and access to employment insurance benefits for people who need to take time off work to care for an ill or aging relative.
Ethics and conduct training for judges
The budget also proposes $2.7 million over five years, plus $500,000 annually afterwards, for the Canadian Judicial Council to support training on ethics and conduct for federally appointed judges, while also ensuring access to professional development that is gender- and culturally sensitive.
The budget includes a 25-page "gender statement" that takes a high-level look at the gender impact of 60 measures in the 2017 budget, described as a "start" towards a deeper, gender-based analysis next year.
For example, it suggests that women "will benefit significantly" from the new EI caregiving benefits, because women are "more likely" to provide care than men.
Also on HuffPost
Photo gallery
Canada Budget 2017 Highlights
See Gallery