Canada's small business lobby group is "relieved" that this year's federal budget didn't hit businesses harder than it did, but is expressing concerns about increases to the deductions taken from employee paycheques.
The Canadian Federation of Independent Business said the "biggest negative" in the budget is a 3-per-cent increase in Employment Insurance (EI) premiums.
"The payroll budgets of every business and the take home pay for Canadian workers will now drop for six straight years, with an EI hike in 2018 and 5 years of CPP premium hikes starting in 2019," CFIB president Dan Kelly said in a statement.
The federal Liberals announced in their budget Wednesday that EI premiums will rise by five cents for every $100 of insurable earnings, to $1.68 from the current $1.63. It's the maximum allowable increase under the law governing EI.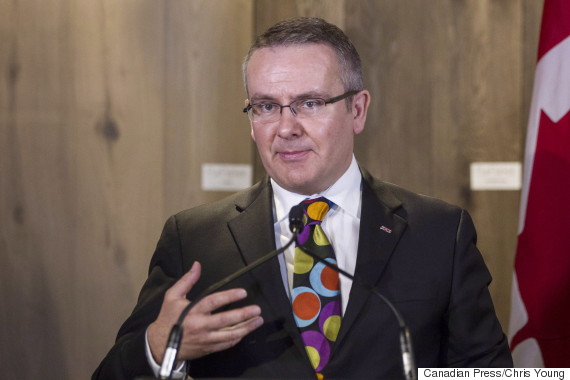 Dan Kelly, President of the Canadian Federation of Independent Business (CFIB) speaks in Toronto on Thursday, September 11. 2014. Kelly is concerned that hikes to CPP and EI premiums will eat into Canadians' earnings. (Photo: The Canadian Press/Chris Young)
The Canada Pension Plan (CPP) premium hikes Kelly referred to will actually go up for seven straight years, according to the Department of Finance, starting in 2019.
That's the result of an agreement reached between the federal Liberals and most provinces last year, designed to enhance the government-mandated retirement savings plan.
The Finance Department describes the premium hikes increases as "modest," noting that an individual earning $54,900 a year will be paying an additional $43 per month into the fund after the last of the seven hikes.
The premium hikes will also result in the CPP being more generous, with the maximum annual benefit rising from $13,110 today to nearly $20,000 in current dollar terms.
Minister of Finance Bill Morneau delivers the federal budget in the House of Commons on Parliament Hill in Ottawa, Wednesday March 22, 2017. (Photo: The Canadian Press/Sean Kilpatrick)
The federal CPP expansion was an effort to pre-empt provinces from setting up their own retirement pension plans, such as Ontario's proposal for a retirement plan, which was dropped thanks to the CPP expansion.
Many policymakers had become concerned that Canadians weren't saving enough for retirement, noting that the percentage of Canadians with defined-benefit plans from their employer has been in a decades-long decline.
The CFIB had some positive words for the Liberals' budget as well, applauding the budget's investments into skills training, as well as measures making it easier to bring skilled foreign workers into the country.
The CFIB represents 109,000 small and medium-sized businesses across Canada.
Also on HuffPost
Canada Budget 2017 Highlights