OTTAWA — The federal government is cashing in the venerable Canada Savings Bonds program, for generations a beacon of savings for Canadians keen to sock away a few dollars or teach their children a thing or two about managing money.
Wednesday's federal budget eliminated the program, saying it brings in too little and costs too much to run.
The savings bond dates back to 1946 and, at its height in the late 1980s, accounted for $60 billion in government debt, or about 45 per cent of the total.
This year, the outstanding bonds total about $5 billion, or less than one per cent of total federal market debt.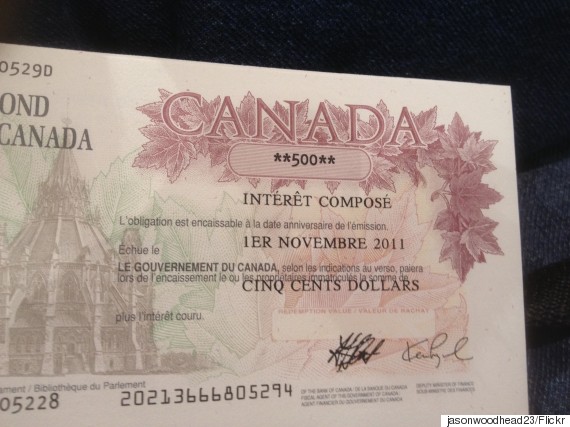 The federal government has cancelled the Canada Savings Bonds program, which has lost out in popularity to other investment opportunities in recent years. (Photo: jasonwoodhead23 via Flickr)
Sales this year are expected to be about $1 billion compared with about $15 billion three decades ago.
Only about 115,000 people are expected to buy CSBs this year, government officials say.
But in their heyday, the bonds were a popular savings tool, particularly with those who bought them through small, weekly workplace deductions.
Today, they may be more the kind of thing that grandparents hand out on birthdays than an actual savings plan.
"This decline in the program's popularity can be attributed to the proliferation of higher-yielding alternative retail investment instruments, such as government of Canada insured retail products," the budget documents said.
All outstanding bonds will continue to be honoured.
Also on HuffPost
Canada Budget 2017 Highlights