OTTAWA — Prime Minister Justin Trudeau says Wednesday's apparent terrorist incident outside the British Parliament is a "cowardly attack" on democracy around the world.
And he says Canada stands ready to help Britain in any way it can after the attack, which left at least four dead in London.
London police say the dead include the attacker and a police officer, and some 20 more have been wounded in the incident, which occurred on the grounds of the Parliament Buildings and the nearby Westminster Bridge.
Parliament remains in a lock-down while the police continue to search the area to ensure there are no other attackers.
In Canada's House of Commons, Trudeau called the attack on Britain's seat of democracy "a cowardly and reprehensible act that we condemn in the strongest terms.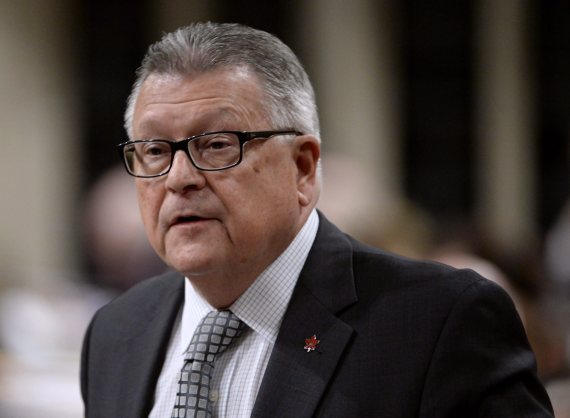 Public Safety Minister Ralph Goodale says Canadian security agencies are taking all appropriate steps in light of an attack outside the British Parliament. (Photo: The Canadian Press)
"Canada and the U.K. are close friends and allies and our message to the citizens of the United Kingdom and our colleagues in the British Parliament is simple: We stand with you."
Trudeau said the scene unfolding in London is "all too familiar" to MPs who were on Parliament Hill in October 2014 when a gun-toting Michael Zehaf-Bibeau stormed into Centre Block after killing a soldier standing on guard at the nearby National War Memorial.
Zehaf-Bibeau was killed outside the Library of Parliament in a shoot-out with police and parliamentary security officers.
'Evolving situation'
Public Safety Minister Ralph Goodale said he called British Home Secretary Amber Rudd to offer Canada's assistance in the aftermath of Wednesday's carnage.
He said there's no change in the threat level in Canada but Canadian security agencies are taking all appropriate steps.
"There is no known Canadian connection at this stage," he said.
"This is an evolving situation so we're monitoring every detail with a great deal of care."
Also on HuffPost
U.K. Parliament Westminster Shooting Attack 2017