Finance Minister Bill Morneau's big day got off to a rough start Wednesday after the Conservatives staged a filibuster to delay the release of the federal budget.
The filibuster was presumably staged to protest proposed Liberal reforms to House of Common rules to shorten the number of sitting days and question periods. Opposition parties have interpreted the proposed changes as a breach of parliamentary privileges.
Conservative and NDP MPs stood one after the other to make statements when Liberal MP Yasmin Ratansi tweeted a photo of her peers on the other side of the aisle, accusing them of "infantile behaviour."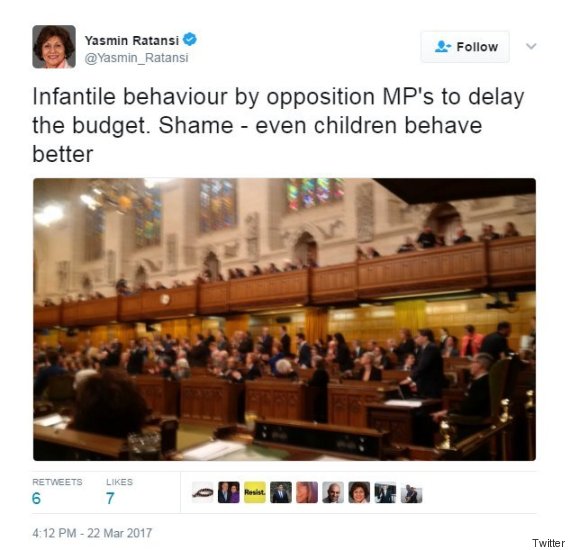 The Don Valley East MP immediately received backlash and became filibuster fodder. Opposition MPs said Ratansi was in breach of the rules.
It's against House of Commons rules for members to take pictures from inside the chamber.
Speaker Geoff Regan agreed and urged Ratansi to "delete the picture immediately."
@Yasmin_Ratansi Delete the picture. Delete your account.

— Tom Kmiec, MP (@tomkmiec) March 22, 2017
Conservative Michelle Rempel used Ratansi's tweet as a wedge to make a point of clarification, saying opposition MPs feel the Liberals' proposal is in "violation of all of our political privilege."
The generous clapping eventually subsided and the Trudeau Liberal government released its second budget minutes later.
Also on HuffPost
Canada Budget 2017 Highlights