Canada's finance minister maintains the signature promise Liberals made to injured veterans in the last election is still on the table, despite two straight federal budgets that saw that pledge go unfulfilled.
Liberals were the only party to promise in the 2015 election to re-establish lifelong pensions as an option for injured ex-soldiers. However, the spending plan Finance Minister Bill Morneau unveiled this week announced only that the government was working towards that goal.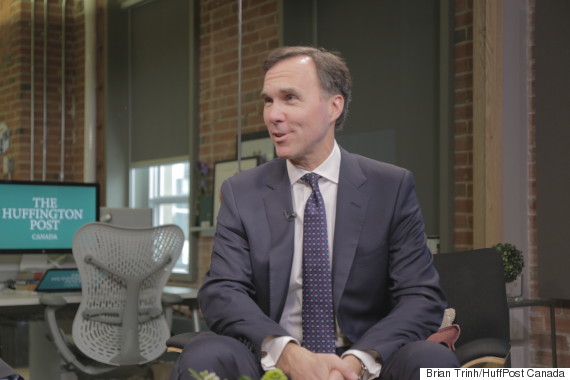 Finance Minister Bill Morneau speaks to The Huffington Post Canada on March 24, 2017. (Photo: Brian Trinh/HuffPost Canada)
Morneau sat down for a digital town hall with The Huffington Post Canada Friday and was asked by a reader why lifelong pensions for vets did not crack his budget, once again.
"This is a very important issue," Morneau replied. "We know that taking care of veterans is really important. This is also complex. We want to get it right."
The finance minister highlighted how Liberal government re-opened Veterans Affairs offices in its first year, and has taken steps in this budget to help ex-soldiers grappling with post-traumatic stress disorder.
But he suggested the issue of lifelong pensions simply requires more thought.
"We haven't got the policy quite right yet and we're not going to do it until we know that we've made the decision that is going to make the most sense for veterans going forward," Morneau said.
"It's something we're committing to. We've not taken it off the list of things to do. It's just going to be done right and it will be coming out, I hope, in the course of the next year."
"We haven't got the policy quite right yet and we're not going to do it until we know that we've made the decision that is going to make the most sense for veterans going forward."
Morneau's budget says much the same, noting the federal government has "made considerable progress in its work to develop the pension for life option and will announce further details this year."
However, the spending plan suggests that disability awards — a lump-sum payment maxing out at $360,000 for the most serious injuries — might just be made available in monthly installments for life.
Such a change is unlikely to satisfy veterans expecting Liberals to return to the pension-for-life system that existed before 2006 and is seen by many ex-soldiers as more generous in the long term.
The New Veterans Charter instead ushered in lump-sum disability award payments, targeted income-replacement programs, and career training for ex-soldiers.
Story continues after slideshow:
Canada Budget 2017 Highlights



Liberals moved to enhance those benefits in last year's budget by earmarking $5.6 billion over six years for injured or ill veterans.
Yet it seems Veterans Affairs Minister Kent Hehr is delivering a different message than Morneau on the matter.
In an interview with The Canadian Press Friday, Hehr promoted how Liberals have again enhanced services available for veterans in the budget. As an example, Hehr pointed to the pledge to pay $80,000 for vets with at least 12 years of service who want to go back to school.
But The Canadian Press has heard a recording of one of Hehr's staff members telling veterans in a briefing this week that the old system would not be returning. Hehr reportedly hedged when asked if the old system is dead, but said "all options are on the table" and Liberals are "not going to preclude any discussions on this."
New Democrats were critical of Liberals this week for not delivering on their top promise to vets.
"The Liberals are offering unclear commitments and no timeline," the NDP said in a post-budget release. "Those who have served to protect Canadians and our values deserve much better."
Watch the full town hall with Morneau:
With files from The Canadian Press
Also on HuffPost
Current MPs With Military Experience (2016)