Cate Blanchett has been in the limelight long enough to know that Hollywood has an absurd "obsession" with beauty.
In a new interview with The Cut, the 47-year-old actress got real about the industry's pressure on women to look perfect.
"There's so much pressure on women to look a certain way, or be a certain thing, or to think that their outward appearance is the most important part of their personality or character," she said.
"When I started working in the film industry, I was working with a lot of women. Some of the women were interested in the work and the characters. Some, more in how they look. I realized that I didn't want to be in the latter. I want to be interested in the job at hand. The obsession on one's looks can make you a bit crazy and I thought, I don't want to go crazy."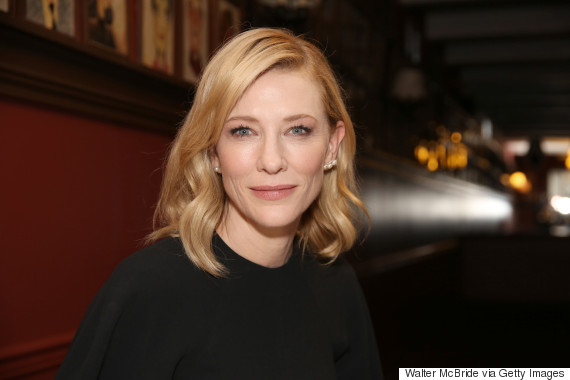 Cate Blanchett at the Cate Blanchett and Richard Roxburgh Caricature Unveiling in New York City.
By ignoring Hollywood's obsession with youth and beauty, Blanchett was able to develop a refreshing outlook on appearances. The "Carol" star now accepts that beauty means embracing what you've got, flaws and all.
"People talk about the idea of perfection, but I love that the Japanese idea about beauty involves flaws," she explained. "It allows for a greater sense of people's individuality. I always find people attractive when they are comfortable with their own skin and not trying to be someone else, but their best selves."
Blanchett also disagrees with the notion that people get less attractive as they age. "It's about looking the best you can at whatever age," she said. "My philosophy is to work with what you got. It's about feeling comfortable in your own skin... But that's just me."
The award-winning actress has always been vocal about aging in Hollywood. In 2014, she told Psychologies magazine that you have to work what your mama gave you.
"You have to know how to evolve with age without trying to hang on to your younger image of yourself from the past," she said.
Clearly we all need to adopt Blanchett's positive outlook on beauty.
Also on HuffPost
Cate Blanchett's Red Carpet Style