Spring's season of renewal is starting on a sour note for Ontario Premier Kathleen Wynne with a new poll suggesting her job approval rating has sunk to just 12 per cent.
The Angus Reid Institute, which tests approval ratings of provincial leaders each quarter, released numbers Friday showing Wynne has dropped four percentage points since December.
Eighty-one per cent of those surveyed told the firm they disapprove of Wynne's performance.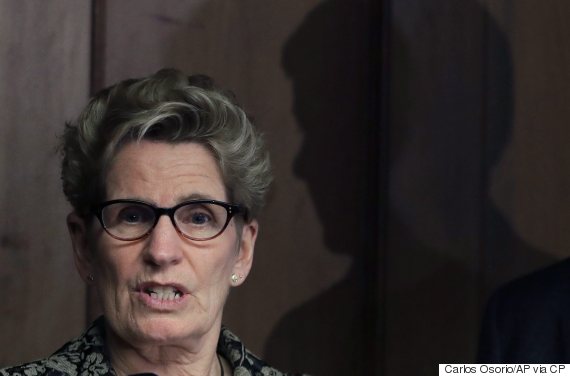 Kathleen Wynne addresses the media on March 13 in Detroit. (Photo: Carlos Osorio/AP via The Canadian Press)
The news comes on the same week former Ontario finance minister, Greg Sorbara, said it is time for Wynne to consider resigning so that Ontario Liberals will fare better in the 2018 election. Sorbara told TVO's Steve Paikin that there is "a whole lot of people in the Ontario Liberal party who think that it's all over."
The Angus Reid Institute also released a poll Friday showing Ontarians remain deeply angry about soaring electricity rates, despite the Wynne government's plan to cut hydro bills by 17 per cent this summer. The majority of Ontarians are also opposed to the sale of shares in Hydro One.
In the poll release, the firm said Wynne is now on the slide "towards single digit job approval."
Story continues after slideshow:
But Wynne is not the only premier to see her approval rating drop. In fact, Saskatchewan Premier Brad Wall — consistently the most popular premier — has dropped six percentage points since last quarter, while Manitoba Premier Brian Pallister dropped five.
Wall's job approval rating of 52 per cent is the lowest in seven years of tracking by the Angus Reid Institute. Wall's government released a budget this week that forecasts a $685 million deficit this year and raises the provincial sales tax to six per cent from five per cent.
Pallister, meanwhile, boasts an approval rating of 45 per cent despite two strange controversies. The premier recently apologized for saying that indigenous night hunting was sparking a "race war" and raised eyebrows with his plan to spend up to eight weeks a year in Costa Rica.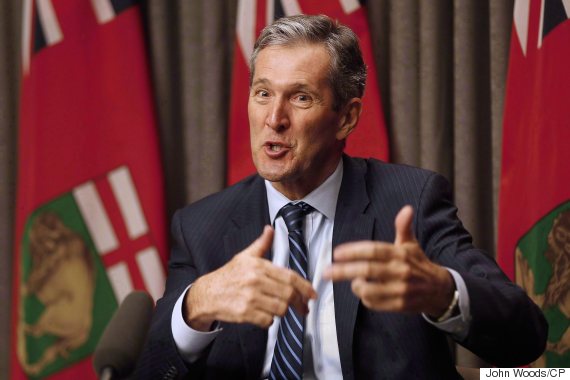 Manitoba Premier Brian Pallister speaks to media at the Manitoba Legislature in Winnipeg on May 16, 2016. (Photo: John Woods/The Canadian Press)
British Columbia Premier Christy Clark is down four percentage points from last quarter and sits at 31 per cent. Clark has faced questions about her B.C. Liberal Party's fundraising and apologized last month for accusing NDP rivals of hacking her party's website.
Angus Reid Institute also released numbers showing British Columbians, who will vote in a provincial election on May 9, are concerned about fundraising and campaign financing.
It's also bad news for a trio of East Coast Liberal premiers. Newfoundland and Labrador Premier Dwight Ball's rating remains the same at 20 per cent, while New Brunswick's Brian Gallant dropped two percentage points to sit at 27 per cent. Nova Scotia Premier Stephen McNeil dipped four percentage points this quarter, for a rating of 27 per cent.
Alberta Premier Rachel Notley sits at 31 per cent approval rating, virtually unchanged from December, while Quebec Premier Philippe Couillard is up five percentage points to sit at 35 per cent.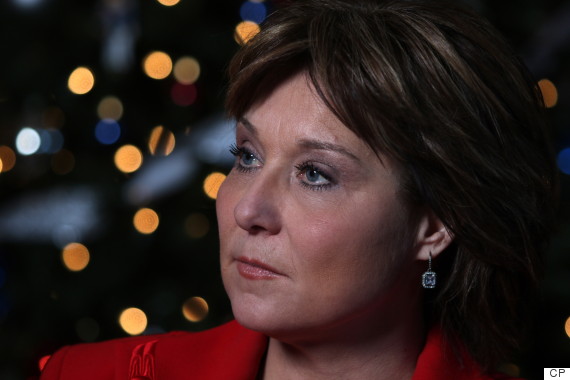 Premier Christy Clark is photographed at the Provincial Legislature in Victoria, B.C. in December 2016. (Photo: Chad Hipolito/The Canadian Press)
The firm does not test the approval rating of Prince Edward Island Premier Wade MacLauchlan because the sample size for the province is too small.
The online survey was conducted between March 6-13 among a representative, randomized sample of 5,404 Canadians who are members of the Angus Reid Forum. The firm says that, for comparison purposes, a "probability sample of this size" would have a margin of error of two percentage points, 19 times out of 20.