OTTAWA — The federal government has granted Katimavik, the national youth volunteer program, half a million dollars — money that could keep it afloat while the Liberals decide whether to make good on Justin Trudeau's four-year-old pledge to ensure the organization's survival.
The Huffington Post Canada has learned the federal government just granted Katimavik $499,500 under the youth employment strategy to develop and run an "indigenous youth in transition" program.
In August, for example, 22 young adults from the James Bay Cree and Tilcho communities will spend four months volunteering four-days a week and attending at least one university class with the goal of kick starting their move towards post-secondary education or employment.
That's not the full pan-Canadian youth volunteer program most people identify with Katimavik. A decision on whether the Trudeau government will fund that is still on hold.
Willy Fournier, the chair of Katimavik's the board of directors, told HuffPost Friday that the group applied for funding hoping to sustain Katimavik until the fall.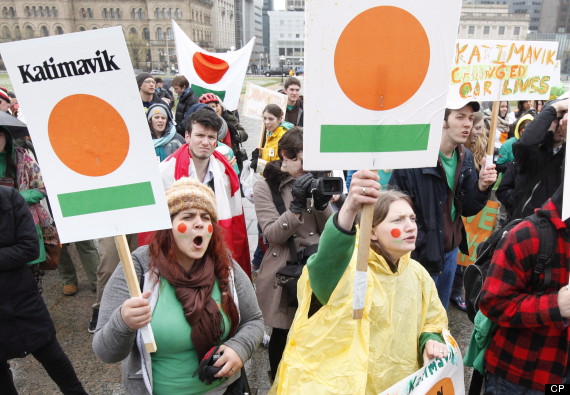 A group of young people demonstrate against government cuts to Katimavik on Parliament Hill April 23, 2012. (Photo: Fred Chartrand/The Canadian Press)
"We are disappointed that nothing specific was mentioned in the budget, but we [took] the advice of our MP," he said.
The Liberals' latest budget made no mention of Katimavik specifically, but promised the $25 million set aside in budget 2016 for a youth service initiative to "help young Canadians gain valuable work experience while providing support for communities across Canada" would finally launch this fall.
Last year's budget proposed $105 million over five years, starting in 2016-17, and $25 million per year thereafter in support of a youth service. Details were supposed to come in the following months but no announcement came.
In fact, Katimavik heard nothing from the Liberals until HuffPost and other outlets published stories earlier this year saying the organization would shut its doors on March 31 unless the federal government stepped in.
That's when local MP Marc Miller reached out and met with Katimavik officials, suggesting several government funding envelopes, such as Skills Link and the summer student program, that might help Katimavik stay afloat.
"Katimavik does extremely good work, particularly with First Nations in Canada. I've run into people randomly who have told me Katimavik saved their lives," Miller told HuffPost Friday.
"For me, it's a no-brainer, but I don't make that decision."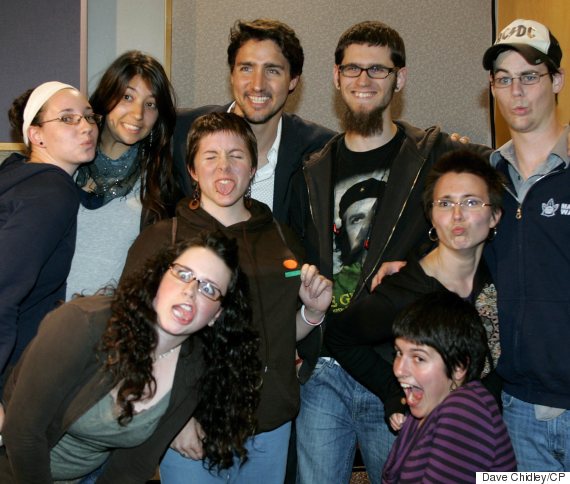 Trudeau poses in London, Ont. in 2007 with a group of youth who participated in the Katimavik program. (Photo: Dave Chidley/The Canadian Press)
Carlene Variyan, the director of communication for Employment, Workforce Development and Labour Minister Patty Hajdu, said she didn't know whether Katimavik would receive further funding.
"We are still very much planning on investing money in a youth service initiative...but what that means in terms of specific funding for them, I really don't know at this point," Variyan said.
Miller told HuffPost Friday that he is also unsure the core Katimavik program will return. "I hope it will come back in the form that it was in its heyday, but I think we've got to take baby steps to get there."  
The not-for-profit organization was founded in 1977 with the mission to help develop responsible, hard-working, compassionate young leaders. It had hoped Trudeau would step in to save the program after the Conservatives slashed all its federal funding in 2012.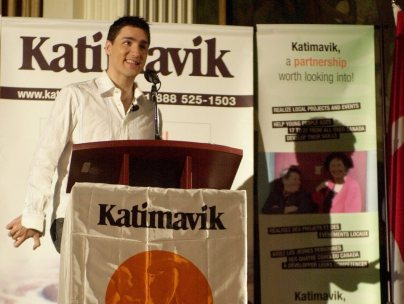 Justin Trudeau, then chairman of the Katimavik board of directors, speaks to students at Jarvis Collegiate on Feb. 25, 2003. (Photo: Tibor Kolley/The Canadian Press)
After all, Trudeau is a former chair of the program and was a staunch defender of it. After the Tories pulled Katimavik's three-year grant, worth $45 million, Trudeau suggested the Tories had killed the popular program because the Liberals were closely associated with it.
Months later, when he took part in a celebrity boxing match against against then Conservative senator Patrick Brazeau, Trudeau sported a temporary Katimavik tattoo on his right bicep. He told reporters he was thinking about the youth volunteer program in the ring and it was one of the things he wanted to fight for.
"We can make anything happen if we put our minds to it."
Congratulations @JustinTrudeau! pic.twitter.com/kpwpfa32H5

— Katimavik (@Katimavik) October 20, 2015
As an MP, his first legislative effort in 2008 was a motion to consider introducing a national voluntary service policy for young people in Canada.
In his 2014 autobiography, Common Ground, the Liberal leader wrote that Katimavik "had an enormous impact on this country" and that his greatest frustration with the program was that it had to turn away nine out of every 10 applicants because it didn't have enough funds.
"That a country as successful as Canada would not choose to offer young people more opportunities to become active, community-minded citizens while helping local organizations was something I wanted to fix. And still do," he wrote.
With previous files
Also on HuffPost:
Trudeau Government's Broken Promises (So Far)