Hey girl, remember that time at the Oscars when "La La Land" was mistakenly given the Best Picture trophy over the real winner, "Moonlight"? Yeah, we remember too and so does Ryan Gosling.
But before we get to our Canadian crush, let's relive that confusing and iconic moment in all its glory:
Video of the whole #BestPicture disaster, including Warren Beatty trying to tell people what happened. pic.twitter.com/8eLY6Rxh9Z

— BuzzFeedEntmnt (@BuzzFeedEnt) February 27, 2017
#NeverForget, right?
During that Best Picture mix-up, as members of the "La La Land" team looked stunned after realizing they didn't win Best Picture, Gosling was snapped laughing over the whole snafu. Look at how amused he was:
Ryan Gosling reacts as the true winner of best picture "Moonlight" is announced at the #Oscars. pic.twitter.com/QBRso3yHNJ

— AP Images (@AP_Images) February 27, 2017
And now we finally know why he was giggling like a schoolgirl instead of displaying shock like his colleagues.
"I was watching people start to have this panicked reaction in the crowd," he told the Adobe Summit in Las Vegas, according to Entertainment Tonight. "Guys were coming on with headsets and I felt like someone had been hurt.
"I thought there was some kind of medical situation, and I had this worst-case scenario playing out in my head. And then I just heard 'Moonlight' won and I was so relieved that I started laughing," he added.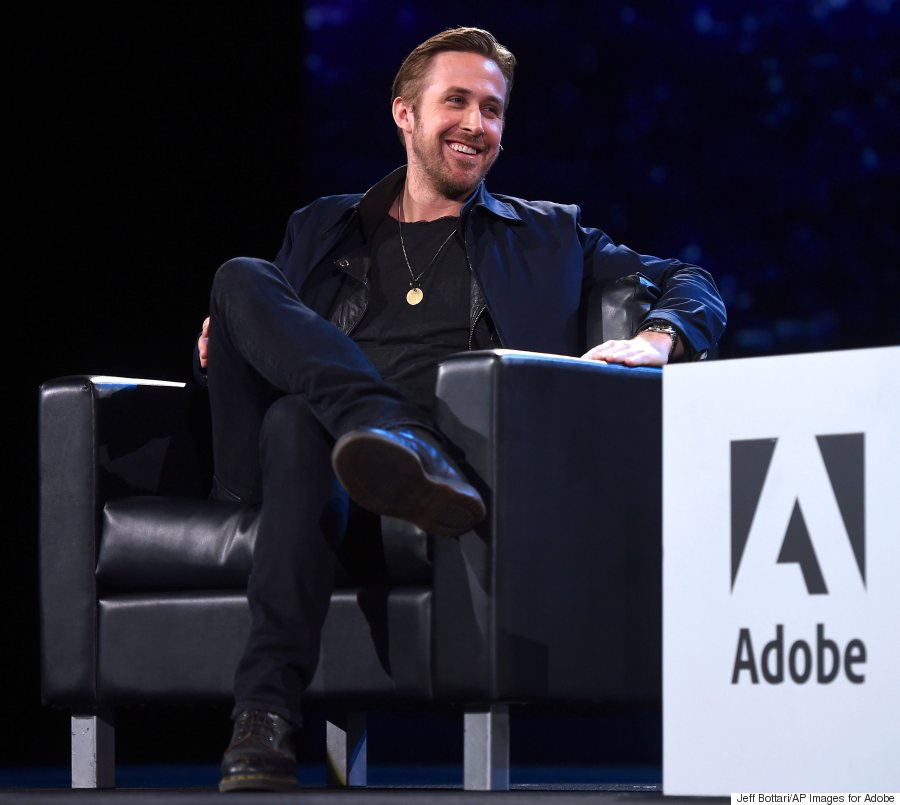 Ryan Gosling shares his on-stage reaction when hearing that "Moonlight" won Best Picture at the Oscars during Adobe Summit 2017 on Wednesday, March 22, 2017 in Las Vegas. (Jeff Bottari/AP Images for Adobe)
We totally hear ya, Gos. We too laugh sometimes when we don't know what in the world is going on. It's a good stress-buster.
And even though his movie didn't win the big prize of the night, the Golden Globe winner was stoked for the "Moonlight" cast and crew.
"But truthfully, I was also so thrilled that 'Moonlight' won. I know the director... I've worked with them before. It's such a ground breaking film, made for a million dollars, an incredible achievement, and I'm so happy for them that they were being recognized."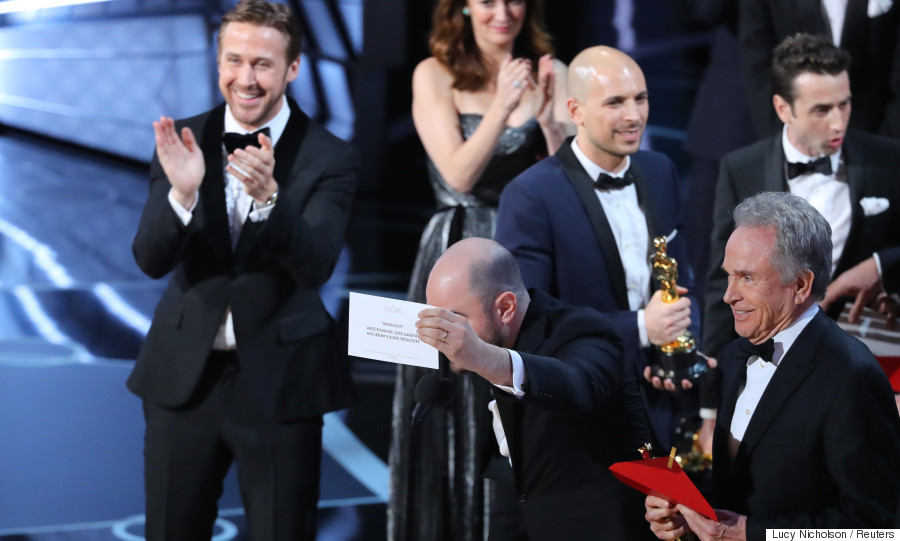 Producer Jordan Horowitz holds up the card for the Best Picture winner "Moonlight." At left is Ryan Gosling and right is presenter Warren Beatty who mistakenly announced "La La Land" as the best picture winner. (REUTERS/Lucy Nicholson)
Gosling's "La La Land" costar Emma Stone also had a few things to say about the Best Picture snafu.
"Whew, you guys see that?" she joked backstage to reporters after winning the Oscar for Best Actress. "I f**king love 'Moonlight.' God, I love 'Moonlight' so much. I am so excited for 'Moonlight,'" Stone said. "And of course, it was an amazing thing to hear 'La La Land.' I think we all would have loved to win Best Picture, but we are so excited for 'Moonlight.' I think it is one of the best films of all time, so I was pretty beside myself."
And who can forget her reaction when she realized her movie didn't win Best Picture?
I liked a @YouTube video from @daily_mail_https://t.co/N26Ev8C3tm Watch Emma Stone's hilarious reaction following Oscars fiasco

— deepakraja (@deepakr49018678) March 12, 2017
What a time to be alive!
Also on HuffPost