Taxing ride-sharing services like Uber is about levelling the playing field with more established industry like taxis, Finance Minister Bil Morneau said Friday. But he refused to speculate on placing a levy on other companies like Netflix that have flourished with new business models.
Morneau was responding to live viewer questions during a digital town hall at The Huffington Post Canada on Friday.
"We're not in any way trying to disadvantage people from using Uber, we're just trying to make sure that there's an appropriate payment of GST," he said. "So that was a relatively straightforward thing around fairness for different parts of the economy."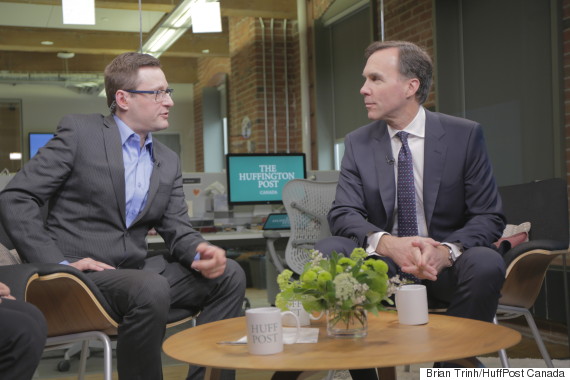 Finance Minister Bill Morneau, right, speaks to HuffPost Canada business editor Dan Tencer during a digital town hall on Friday.
Dan Tencer, HuffPost Canada business editor and town hall co-host, followed up by asking if other new economy companies like Netflix, would be facing a tax down the line as well.
Watch the video above for the minister's full answer.
The Liberal government's budget Wednesday included amending the definition of a taxi business to include ride-hailing services such as Uber and subject them to the same GST and HST rules as taxis.
Also on HuffPost
Canada Budget 2017 Highlights