It's a great day for anyone who was rooting for Wall Street's 'Fearless Girl' statue to become a permanent fixture — because she's here to stay, at least until February 2018, New York City mayor Bill de Blasio announced Monday.
"In her short time here, the Fearless Girl has fueled powerful conversations about women in leadership and inspired so many," he said in a statement. "Now, she'll be asserting herself and affirming her strength even after her temporary permit expires — a fitting path for a girl who refuses to quit."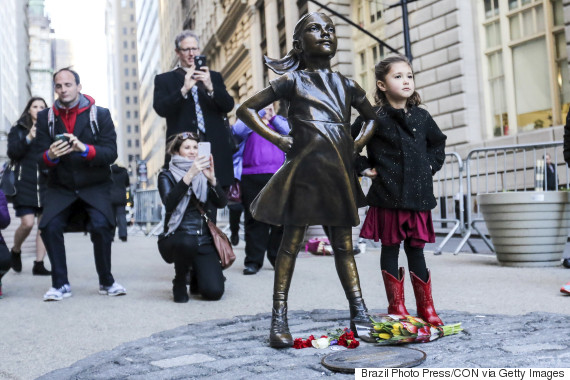 The statue, which portrays a young girl bravely staring in the face of the trademark Charging Bull, was installed by State Street Global the day before International Women's Day in an effort to encourage more companies in New York's financial district to hire more women.
But despite making an important statement in the name of feminism, the statue has had its fair share of criticism. Some have said the statue should have portrayed an adult woman, rather than a girl. Others criticized State Street Global itself for promoting a feminist message, despite its lack of women on their executive board.
The 'Fearless Girl' was even sexualized by a Wall Street wise guy earlier this month, who thought it was a good idea to bump and grind against the statue.
The foul moment was captured by architectural designer Alexis Kaloyanides, who told her side of the story to Inside Edition.
"These three young men came along, and at first they were hanging off the bull... and then this one guy rushed up and started grinding against the statue of the girl, being lewd and totally inappropriate," she told the platform. "The stunt shocked the crowd, which immediately yelled at the unidentified man, who laughed as he walked off with his friends."
"He was gone within 20 seconds, but it just ruined the mood of the scene," the 34-year-old added. "There were people there talking about empowering children and women and for then to have this 20-something showing his entitlement, defiling the statute... it was utterly revolting."
But regardless of the debate around the sculpture, it looks like many people are thrilled to see her stick around, and voiced their praise through Twitter.
Yes! I was so happy to take my daughter & son to see her while we were in NYC. Yes! #FearlessGirl https://t.co/rDqTzkNkVd

— ~K~ (@FromFL) March 27, 2017
So glad this little lady will be around for another year... I enjoy her! #FearlessGirl #BeFearless pic.twitter.com/B5gRZ1P25L

— Kate Walsh (@katewalsh) March 27, 2017
YES 💪 💪 💪 I'm glad I will be able to see this IRL sometime this year! #Fearlessgirl https://t.co/zaxWHCLkwi

— Lindsay Munro (@lindsaymunro) March 27, 2017
This is definitely a sight to see if you're in New York City!
Also on HuffPost
10 women on why feminism still matters