Want to get a lot of attention from strangers? Eat pancakes in the middle of a street.
A Lakeland, Fla. man faces minor charges after he admitted to the bizarre stunt.
Lakeland police said they received a call Tuesday about a man sitting in a crosswalk eating pancakes off a small table. When officers arrived, the man was gone.
They tracked him down after a video of the odd meal was posted on Facebook and sent to police. Several people also tagged the man, 21-year-old Kiaron Thomas, in the video.
Thomas, who lives less than 100 metres from the intersection, admitted to police he was behind the prank.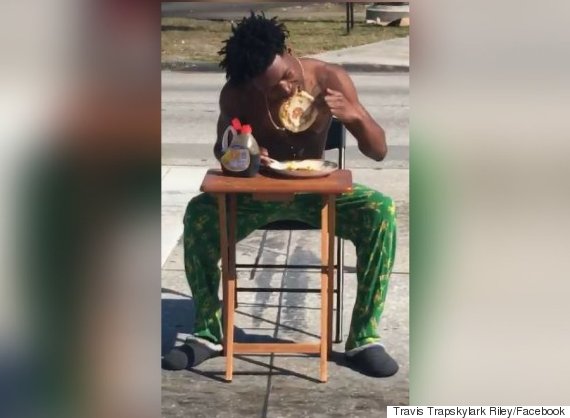 (Photo: Travis Trapskylark Riley/Facebook)
He's been charged with placing an obstruction in the roadway and disrupting the free flow of traffic.
No one appears to have been injured, but many Facebook users were entertained.
"I hope that was Aunt Jemima he was using. Anything else on pancakes is blasphemy," wrote one commenter.
"Might I suggest the Bemus Point fire department's pancake breakfast Sunday 3/26 from 7a.m. to noon, at the fire hall as an alternative to eating in the street," wrote another.
Others took his gesture more seriously, saying he could have hurt someone.
"People really need to stop and start considering the consequences of their actions maybe then we might be able to start fixing this country," wrote one angry commenter.
But his real crime, in our opinion, is he didn't offer any pancakes to the drivers he held up.
Also on HuffPost