Just weeks after making headlines on Broadway, Prime Minister Justin Trudeau will return to New York City to discuss gender equity and women's rights at a summit that includes Hillary Clinton.
Trudeau announced Tuesday that he will participate in the Women in the World Summit on April 6, part of an annual three-day gathering of activists, artists, CEOs, and politicians.
Clinton, the former U.S. secretary of state and presidential candidate, will speak on the same day as Trudeau.
Remaining tickets for next Thursday's event cost US$350.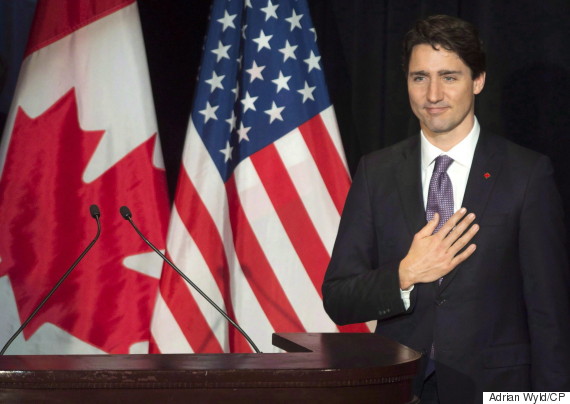 Prime Minister Justin Trudeau acknowledges the crowd after delivering remarks during the 2016 Catalyst Awards Dinner in New York in 2016. (Photo: Adrian Wyld/The Canadian Press)
"We have achieved real progress in advancing women's equality, especially in the past decades, but there is still a lot of work to be done," Trudeau said in a statement. "We need the full and equal participation of women around the world.
Though the event website describes the summit as a chance to showcase "women of impact," it notes that it has also included "men who champion women." Actor Tom Hanks, for example, celebrated the life of screenwriter Nora Ephron there in 2013.
According to the site, Trudeau will be interviewed by journalist Tina Brown, who launched the summit in 2010, about how the roles of prime minister, "feminist, teacher, and father" inform his priorities of "gender equity, strengthening the middle class, and promoting diversity and inclusion."
.@JustinTrudeau, @HillaryClinton, @IAMQUEENLATIFAH & @NicolaSturgeon will be at the @WomenintheWorld Summit 4/5-4/7: https://t.co/wpjdn6n0SM pic.twitter.com/WwWUwzJBAC

— Women in the World (@WomenintheWorld) March 28, 2017
Trudeau's release suggests he will mention how last week's federal budget included a 25-page "gender statement" on how measures would benefit women. The spending plan included $7 billion over 10 years to improve access to affordable child care.
Actress Scarlett Johansson, Chinese billionaire Zhang Xin, and Scottish First Minister Nicola Sturgeon will also take the stage next Thursday.
One orchestra seat for the full-day event at the David H. Koch Theater at Lincoln Center costs $350. Tickets for events on the Wednesday and Friday range from $50 to $250.
Trudeau will also meet with United Nations Secretary-General António Guterres next week, as questions remain about Canada's pledged commitment to deploy troops on a UN peacekeeping mission.
Trudeau on Broadway just weeks ago
Trudeau was in New York City two weeks ago to attend the Broadway debut of "Come From Away," a musical highlighting the hospitality Newfoundlanders extended to stranded U.S. travellers immediately after 9-11. U.S. President Donald Trump's daughter Ivanka was also in the audience.
Trudeau addressed the crowd before the show about the close relationship between Canada and the U.S., and importance of leaning on each other in the "darkest times."
The event was covered by a number of top U.S. media outlets, including The New York Times, which noted the symbolism of a show that "celebrates generosity toward foreigners in need."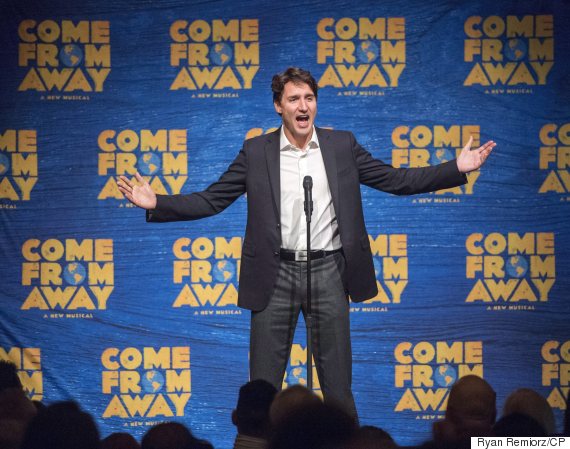 Prime Minister Justin Trudeau speaks before the start of the Broadway debut of "Come From Away," in New York City on March 15, 2017. (Photo: Ryan Remiorz/The Canadian Press)
Trudeau has also participated in a panel on gender parity at the World Economic Forum in Davos, Switzerland in 2016. A clip from the event, in which Trudeau encourages men not to be "afraid of the word feminist," has been viewed millions of times online.
He delivered much the same message at a forum at the United Nations last March.
"I'm going to keep saying loud and clearly that I am a feminist until it is met with a shrug," Trudeau said at the time.
&nbsp
But, here in Canada, some politicians are evidently trying to poke holes in Trudeau's reputation.
During a particularly rowdy question period last week, where discussion centred on controversial Liberal proposals to reform the House of Commons rules, Conservative MP Michelle Rempel essentially accused Trudeau of trying to intimidate Tory House Leader Candice Bergen.
"The prime minister purports to be a feminist, yet when a strong, confident woman dares to question his arrogance and unilaterally changing the fundamentals of Canadian democracy, he tried to stare her down and yell at her," Rempel said.
The Tory MP sparked applause by calling on the "so-called feminist" to apologize.
&nbsp
With a file from The Canadian Press
Also on HuffPost