Who's afraid of the big bad cat?
Not this Canada Post letter carrier.
Debra Anderson, who delivers mail in Hamilton, Ont., shared a couple videos of a seriously riled-up cat that she encounters on her route day in and day out.
"Pretty sure it would rip my face off if the glass window didn't keep him in," she wrote on YouTube.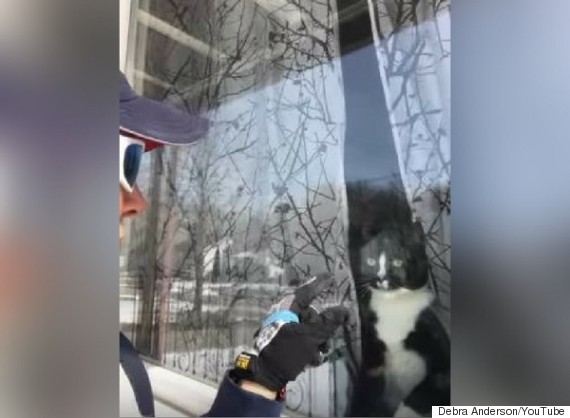 "Put the mail in the box and then get off my lawn." (Photo: Debra Anderson/YouTube)
The videos, shared last week, show a black and white kitty who seems to have a serious beef with anyone who dares venture on its turf.
And while Anderson has a bit of fun with the cat — trying to engage it through the window with her gloved finger — she has a laugh and quickly moves on.
"I love my job so much and this cat truly makes my day...Pretty sure it wants to kill me," she jokes.
While this cat appears to be of little actual threat to Anderson, it's a good thing it's kept behind glass. In the past, Canada Post has been known to refuse service to households whose pets pose a danger to letter carriers.
Follow The Huffington Post Canada on Facebook, Twitter, and Instagram.
Also on HuffPost