A three-year-old Alberta boy has learned there are serious consequences for drivers who rip up the roads.
His punishment? He's been told to serve some hard time helping his mom in the laundry room.
Nathan Snow was driving home from a playground in Fort McMurray, Alta. on Sunday night in his miniature Ford F-150, when he was pulled over by RCMP.
The officer served the toddler with a pink violation ticket that read "Too Fast!"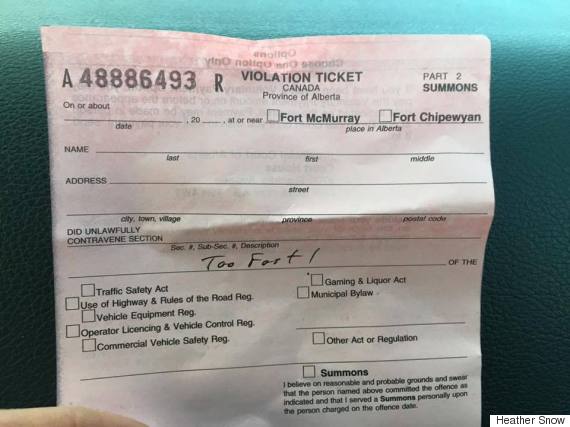 Nathan Snow's speeding ticket. (Photo: Heather Snow)
Nathan's parents were first-hand witnesses to their son's first driving infraction.
"We were more excited than he was," Nathan's mom Heather told The Huffington Post Canada, saying the officer's serious approach to the situation made them laugh.
"The cop was driving past us as we were walking and asked 'Do you mind if I pull him over in his truck?'"
"It was nice to see (the officer) take the time out of his day to interact with Nathan. It was a nice way for Nathan to meet a police officer for the first time."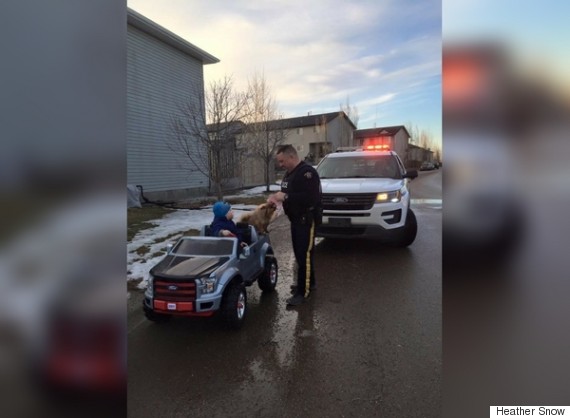 Nathan will serve time helping his mom with laundry duty. (Photo: Heather Snow)

Heather said her son's a bit young to grasp the concept of traffic tickets — or police officers, for that matter — but it will be a great story to share with him when he's a bit older.
Heather's husband captured the adorable interaction on video and Heather, a professional photographer, made sure to preserve the moment with some sweet photos of her son and his truck.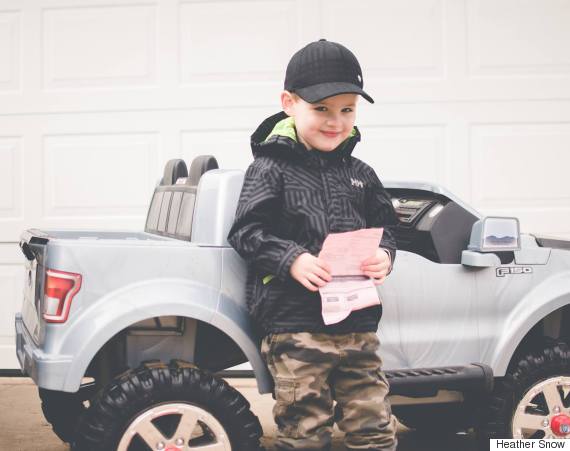 Nathan poses with his first ever speeding ticket. (Photo: Heather Snow)

Watch the video above to see how it all went down.
Also on HuffPost
Good News In Alberta In 2016