When Lesley Hampton's designer clothes hit the runway at Vancouver Fashion Week in March, people knew to expect stunning garments and beautifully crafted pieces. They just might not have expected a lesson in endurance at the same time.
Hampton, who is based in Toronto and whose background is First Nations, has always placed importance on diversity, both in the clothing she creates and the types of bodies she chooses to use for her runway shows. For her Spring-Summer 2017 collection, that meant turning to Adrianne Haslet, a victim of the Boston Marathon bombing whose left leg had to be amputated below the knee.
"I sent her an email. I was just like, 'I love your story. I'm so inspired. Would you be interested in coming to walk for my show?' And she replied right away, and was like, 'That's incredible, absolutely,'" Hampton told CBC's Our Vancouver.
She also chose to start her show with Haslet's 2014 TEDx talk, "What people say when they don't know what to say," explaining to the blog Olio by Marilyn that she wanted to introduce the audience to Haslet, then have her open the show.
Rather than shying away from the spotlight after her injury, Haslet, a ballroom dancer, has been taking every opportunity to speak out about what she's learned since the bombing.
As she told Self in 2016, "It was an extraordinarily humble experience to have your body change so drastically and then try and appreciate it. Let alone love it. Let alone show it. Let alone wear shorts or be on camera talking about it."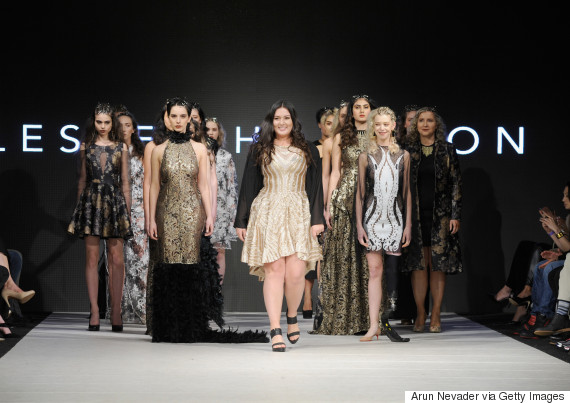 Lesley Hampton, centre, with models after her FW2017 show at Vancouver Fashion Week.
But Haslet wasn't the only model who veered from the typical body type on stage. Hampton, who has partnered with the Be Body Aware project to celebrate diversity in fashion always looks to find new people to cast in her shows.
"My models range from industry size, plus size, men, women, transgender, amputee models and even some with alopecia," she told the Toronto Sun in 2016. "I like to have my models represent the diversity of society. Whoever I think can show off the clothes the best, then I choose them."
Haslet certainly seemed to appreciate the opportunity to take part in Hampton's show, telling A Plus, "I was walking in celebration of Lesley's work.
"It is my life's work to show other amputees that they can do anything. We are not broken, we are simply missing pieces. Once we have that piece, our options are limitless, as you see."
Also on HuffPost
Quotes On Why Diversity In Fashion And Beauty Matters