It's 2017. We have Web 2.0, HTML5, and a host of amazing, easy-to-use web design tools.
So why is the Quebec provincial police force still kicking it with a website design that looks like a cached copy straight outta 1998?
It was a question posed by new media commentator Elias Makos on Montreal's Breakfast Television last week, and he made some very good points about how the outdated design is detrimental to the force and the public.
Makos pointed out that the Sûreté du Québec (SQ) wanted citizens to submit photos and videos from the Highway 13 fiasco earlier this month that left hundreds trapped in their cars overnight during a massive snowstorm.
OK, great.
BUT you can't send any smartphone photos or videos, please — as their email system can't handle files that large.
You can see why this is a problem, right? Not too many people are recording on their flip phones in 2017.
Makos also pointed out another hilarious depressing reality about the site's usability: "Why is it that the website from the 1996 film 'Space Jam'— which is still online — is still more functional than the SQ's website?"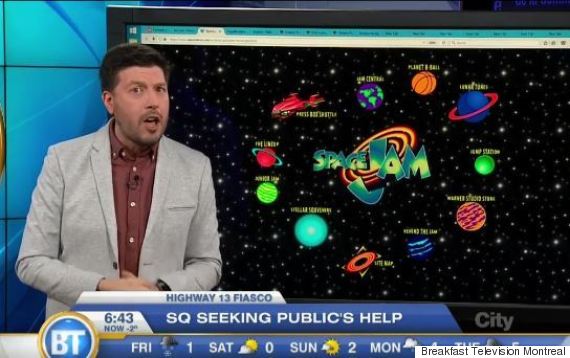 The "Space Jam" website is delightfully easy to navigate. (Photo: Screengrab/Warner Bros.)
Makos continued his rant, getting more worked up by the second, as he highlighted a host of other flaws:
There's nowhere on the SQ website to file a police report.
Its English-translated page contains only 10 words, he says. (We counted 16 ... but still. Sixteen words and six hyperlinks. That's it.)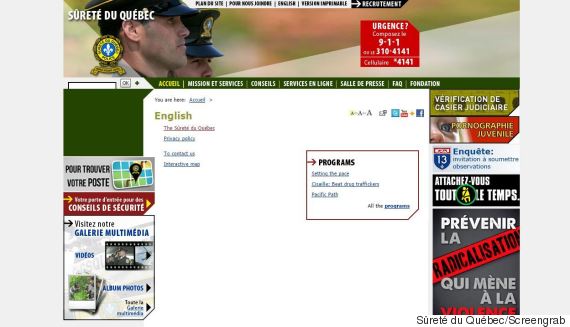 This is the only English you'll find on the SQ website.
In comparison, the website for the Ontario Provincial Police (OPP) has all sections translated into both French and English, AND IT LOOKS LIKE IT'S FROM 2017.
Sorry, we might be getting caught up in Makos' fury.
"This is serious, guys. The Highway 13 thing caused a lot of grief for a lot of people, and this is the system in place to report it. Good luck sending your iPhone videos. Let me know if that works," he concludes angrily, before hugging away the rage with co-host Derick Fage.
Follow The Huffington Post Canada on Facebook, Twitter, and Instagram.
Also on HuffPost:
29 Logos If Companies Were Honest