If there's anything the 2017 Juno awards established, it's that you don't play off The Tragically Hip. Like, ever.
The beloved band from Kingston, Ont. won the Junos Group Of The Year on Sunday night, and accepted their award to thunderous applause and cheers from the audience. It's been, as many know, a monumental and bittersweet year for The Hip. The band announced in May that lead singer Gord Downie had terminal brain cancer. The band embarked on a final tour this summer, with Canadians from coast to coast selling out every stadium that was booked.
So the Juno win was a logical accolade for the band this year. Members Rob Baker and Paul Langlois were onstage, with lead guitarist Baker first giving thanks to the people in their extended crew who ensure The Hip make it to their shows and that the shows run smoothly.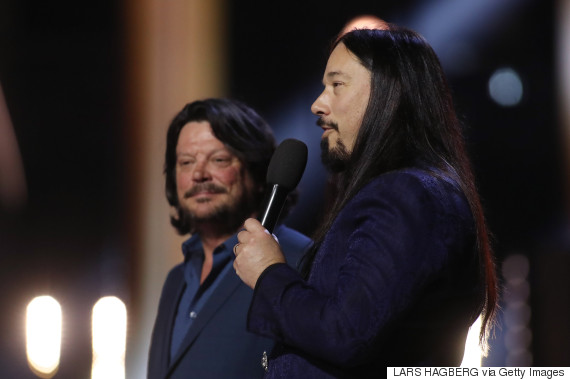 Rob Baker (R) and Paul Langlois of the The Tragically Hip accept the Juno for Group of the Year (Photo: Lars Hagberg/AFP/Getty)
Then Paul Langlois started to say his thank yous, thanking their label, Universal, and then their families.
And then the cut-off music played.
Some sort of pseudo-EDM type business.
Langlois was incredulous: "Oh, you're gonna play me off, are you?" he said.
Yes, Paul. With one of your own songs yet. As Langlois continued to give his thanks, the music switched to The Hip's "Ahead By A Century."
"Go to commercial, go ahead!" Langlois said. And then, "This is my arena, not yours," referring to the Canadian Tire Centre in Ottawa where The Hip had played six months earlier.
"This is my arena, not yours"-The Hip's Paul Langlois, as the Junos tried to play him off during his acceptance speech.

— Joshua Kloke (@joshuakloke) April 3, 2017
He went on to thank Gord Downie as the audience erupted into massive cheers, basically drowning out anything he said next.
Naturally, Canadians watching the show were not impressed with the show's choice to cut off the band.
That was a very bad idea. The Hip should be given another go at the mic and given as much time as they want. #shame#Junos2017

— Call Me Matty (@Mjeh24) April 3, 2017
Don't cut off the Hip. #Junos2017

— Alex Colangelo (@AlexColangelo) April 3, 2017
You do not play off The Hip, they are a national treasure. #ThisIsMyArena#joeldoesjunos#fb

— Joel Baskin (@pilotjoel) April 3, 2017
Cut off Paul Langlois' mic while he's shouting out Gord Downie? Good work, #JUNOS. #classy

— Lowest Of The Low (@LowestOfTheLow) April 3, 2017
Wow. The Junos just played off the Tragically Hip WITH A TRAGICALLY HIP SONG in the middle of acknowledging Gord Downie. Smh.

— Said The Whale (@saidthewhale) April 3, 2017
Others couldn't believe they played The Hip off with ... The Hip.
When you play the hip song to get the hip off... lol #Sus

— Connie Chan (@ConstanceChan) April 3, 2017
You can't play off the Hip with the Hip! #Junos2017

— CBC Music (@CBCMusic) April 3, 2017
But some thought The Hip should've been mindful of the timing of the show and kept things short:
@AdamWylde And yeah, I know it's the Hip, but still. Have respect for the other performers and the people trying to run the show.

— DaveJambo (@DavidJambo) April 3, 2017
Check out the surprising two minutes for yourself here:
Congrats to @thehipdotcom for wining Group of the Year and owning the arena! @TheJUNOAwards#junos#Junos2017#Canada#ottawa#badass#hippic.twitter.com/s6cX98I9fl

— Breaching Vista (@BreachingVista) April 3, 2017