You may love it, you may hate it, but chances are, you know the words to Bryan Adams' "Summer of '69." And that goes for Canada's top musicians as well.
At the beginning of last night's Juno Awards ceremony, co-hosts Russell Peters and Adams kicked things off with a hilarious skit involving Prime Minister Justin Trudeau, who was actually in attendance, phoning in a request for Adams to perform his hit song.
Now who could say no to that?
Adams certainly couldn't. With the help of some very talented friends, Adams ended the show with a special "Summer of '69" jam that had the whole arena (and likely, many people at home) singing along.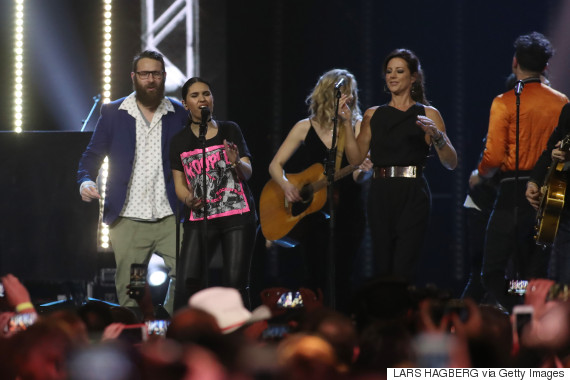 Alessia Cara sings lyrics to 'Summer of 69' during the JUNO awards show finale at the Canadian Tire Centre in Ottawa, Canada, April 2, 2017.
On stage to help him out were Sarah McLachlan, Max Kerman of Arkells, Alessia Cara, Dallas Smith, members of Billy Talent and others.
It was a performance iconic enough to be filed in the Canadian Heritage folder — you can see it in full here:
But what we're wondering is, where's the video of Trudeau singing along? We can only assume he and his wife Sophie Gregoire Trudeau were out of their seats, dancing and singing their hearts out like the rest of us.
As for the newcomers like Alessia Cara, she couldn't have been more nervous to perform alongside legendary Canadian artists like McLachlan and Adams, while singing a song that was released 12 years before she was born.
"I wasn't even a fetus," @alessiacara on how old she was when Summer of '69 came out. #Junos2017 pic.twitter.com/P4ORbPUGCU

— CBC Music (@CBCMusic) April 3, 2017
Here's @alessiacara on what it was like to jam on Summer of '69 with @bryanadams at the #JUNOS #JUNOS2017 pic.twitter.com/OtUXMdjW8l

— Fateema Sayani (@fateemasayani) April 3, 2017
This hit of Canadian nostalgia had plenty of fans on Twitter as well.
Besides #ocanada is there a more loved #canadian song than #Summerof69 ? #Canada #music #CanadianMusic #Junos2017 @bryanadams #musique

— Lisa Black (@LisaBlackDesign) April 3, 2017
An all-star line-up, full arena sing-along of Summer of '69 - that was a hell of a finale! #Junos #Junos2017 @BryanAdams

— Steve Adams (@SteveAdamsWpg) April 3, 2017
And it's been a long time coming. When Adams appeared on the Junos stage in 2016, there were people waiting for the song:
I am disappointed that Bryan Adams is not singing 'Summer of '69' #JUNOS

— Sara P.♥ (@xLovely_Sara) April 24, 2016
And even back in 2012, William Shatner presented his own version of the song at the ceremony:
Shatner made Summer of 69 his own. Best version ever. #junos

— MooseFM Zane Smith (@Radio_Zane) April 2, 2012
All we know is, it was great to see these diverse Canadian musicians come together on one song we can all sing by heart.
Also on HuffPost
Junos 2017 Red Carpet Photos