Keeping your private life your own isn't the easiest thing to do when you're a world-famous model, and it seems that Bella Hadid is ready to open up.
In an interview in the summer issue of Porter magazine, cover girl Hadid talks frankly about her upbringing, her involvement in the #NoBanNoWall protest in New York in January, and her religion — which she's never before discussed publicly.
Speaking with the publication about her father, Nazareth-born Mohamed Hadid, who is of Palestinian heritage and who has lived in Syria and Lebanon, Hadid says, "He was always religious, and he always prayed with us. I am proud to be a Muslim," according to Paper magazine.
Hadid says she participated in the #NoBanNoWall protests against U.S. President Donald Trump's refugee ban because "my dad was a refugee when he first came to America, so it's actually very close to home for my sister and brother and me."
Hadid's mother is Yolanda Hadid (previously Foster), who was born in the Netherlands and immigrated to the U.S. in 1994.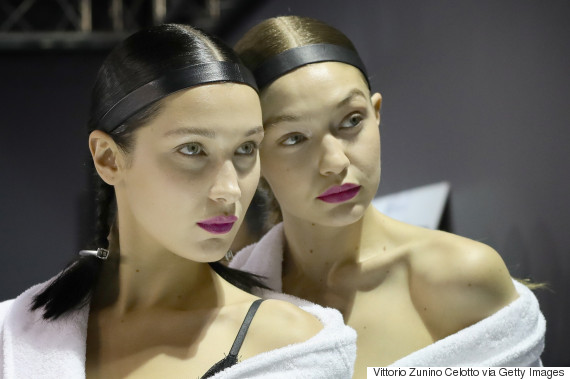 Bella Hadid and Gigi Hadid prepare backstage before the H&M Studio show as part of the Paris Fashion Week on March 1, 2017 in Paris, France.
Bella and model sister Gigi have both happily discussed their heritage in the past, but neither has identified herself as Muslim, instead discussing their knowledge of the religion in various ways.
When Gigi visited the Sheikh Zayed Grand Mosque in Abu Dhabi in 2014 with a group of friends, for example, she sparked controversy for posting selfies around the religious location. But she was quick to respond to critics on social media, saying she knew it was a sacred space.
@madsthaqueenxo we understand the importance of the Mosque to many, including myself coming from a Muslim father.

— Gigi Hadid (@GiGiHadid) December 30, 2014
@trapgoddesshwty
1) she was wearing flats
2) My dads entire family is Muslim, making me like any other there to celebrate heritage.

— Gigi Hadid (@GiGiHadid) December 30, 2014
Bella's strong statement on her faith feels particularly important right now, as threats and acts of vandalism against mosques have doubled since this time last year in the U.S. She's not afraid to embrace every part of herself, and that makes her all the more beautiful.
Also on HuffPost
Muslim Women Who Made A Difference In 2016