UPDATE - April 5, 2017: Pepsi is pulling an ad that has been widely criticized for appearing to trivialize protests for social justice causes.
"Pepsi was trying to project a global message of unity, peace and understanding," the company said Wednesday in a news release. "Clearly we missed the mark, and we apologize."
NEW YORK — Model and Kardashian clan member Kendall Jenner's turn as a Pepsi-wielding protester has some on social media decrying the imagery as appropriation of the Black Lives Matter movement.
The "Live for Now Moments" video released Tuesday has Jenner in a platinum wig on a photo shoot when protesters amble by. She rips off her wig, smears away her lipstick and joins them, eventually handing an officer on the demonstration line a can of Pepsi. He gulps some down, and then grins as Jenner dances off.
Reaction on social media called the imagery "tone deaf."
The Kendall Jenner Pepsi fiasco is a perfect example of what happens when there's no black people in the room when decisions are being made.

— Travon Free (@Travon) April 4, 2017
Ivanka: there! Now absolutely NOBODY can produce something more tone-deaf than me today
Kendall: hold my Pepsi

— Fred Smith (@fredwordsmith) April 4, 2017
Others said it evoked a widely circulated photo of Black Lives Matter protester Leshia Evans last year in Louisiana. Evans was detained when she approached police at a demonstration in Baton Rouge.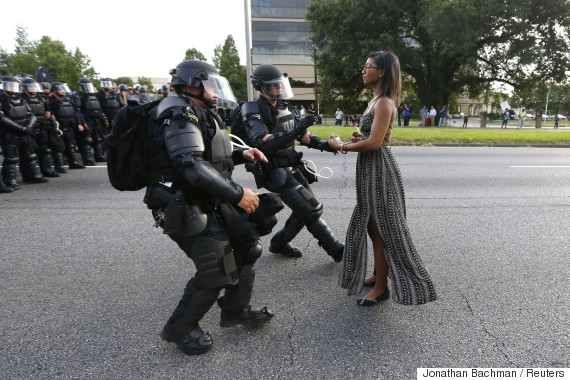 Lone activist Ieshia Evans stands her ground while offering her hands for arrest as she is charged by riot police during a protest against police brutality outside the Baton Rouge Police Department in Louisiana, July 9 2016. (Photo: Jonathan Bachman/Reuters)
Many social media users said they would be avoiding Pepsi products.
waitress: is pepsi ok
me: is white supremacy ok

— gary from teen mom (@garyfromteenmom) April 4, 2017
To boycott #Pepsi, remember their brand is not limited to just Pepsi. It's Mountain Dew, Mugroot Beer, AMP Energy, Fayrouz, Miranda, Duke's

— Ebony Iris (@DarlingEbony) April 4, 2017
With files from HuffPost Canada
Follow Huffington Post Canada Living on Pinterest, Facebook and Twitter!
Also on HuffPost