Rap videos are often associated with scores of men surrounded by scantily-clad women and bottles of booze.
But one Syrian-American woman has turned that image on its head.
Last week, Mona Haydar, a poet and artist living in New York City, debuted her first rap music video — "Hijabi" — which she filmed when she was eight months pregnant.
The video, which has since gone viral with almost a million views on Facebook, was directed and produced by Tunde Olaniran and is an empowering celebration of Muslim women as well as women who dress modestly.
Some of the song's lyrics include typical ignorant and personal questions that Muslim women who wear hijabs face every day:
"What that hair look like? Bet that hair look nice. Don't that make you sweat? Don't that feel too tight?

Yo, what your hair look like? Bet your hair look nice. How long your hair is?

You need to get your life."
Other lyrics include an inclusive and defiant tone, noting that we should love women of all colours and shades, and that she doesn't give a f*ck whether you like her hijab or not.
"All around the world


Love women every shading


be so liberated


All around the world


Love women every shading


power run deep


So even if you hate it


I still wrap my hijab."
Haydar released the video in honour of Muslim Women's Day, a day that calls for the support and celebration of Muslim women's experiences and stories.
"There are so many conversations unfolding around us right now about the women's movement and the Muslim ban, and Muslim women are rarely given the space to be heard above the noise. This also comes at a time when Muslim women have become the most visible targets of anti-Muslim bigotry," Amani Al-Khatahtbeh, MuslimGirl's Editor-in-Chief, told The Huffington Post. "I hope that #MuslimWomensDay is a launching pad for greater and more inclusive representation for Muslim women in the media."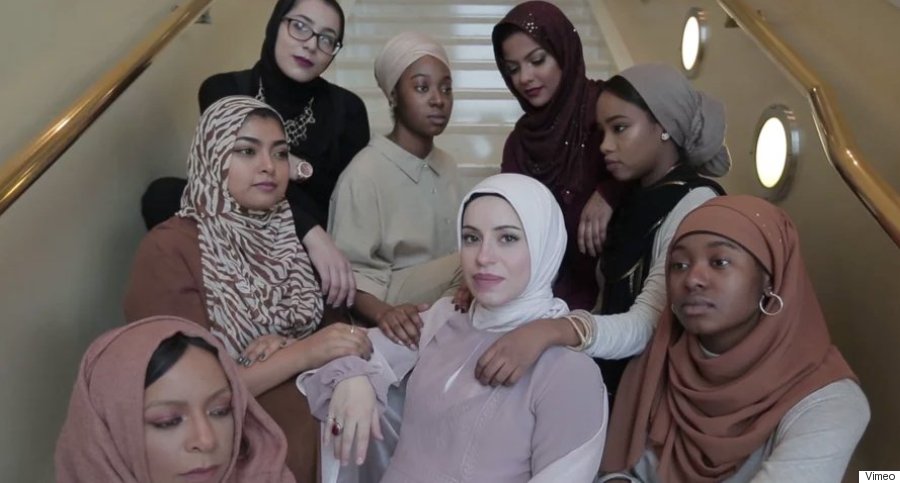 And for Haydar, "Hijabi" is more than a celebration of hijabs and Muslim women; it's an unapologetic declaration to the haters that she won't put up with their bigotry and hatred.
"Given our current administration's insistence on demonizing and maligning the bodies of women and Muslims, among others, I wanted to get this song out as soon as possible," Haydar told The Huffington Post. "I hoped that a pregnant woman who is obviously Muslim [and] creating art and speaking truth would inspire people and offer some levity, joy and hope."
The response to the video? Well, let's just say people are ~feeling~ it.
all around the world / love women every shade #hijabiXmona pic.twitter.com/eoxPjG9boH

— Syar S. Alia ✊🏾 (@syarsalia) March 28, 2017
How cool is @mona_haydar?

First single. While Pregnant. In a hijab. Oppressed? HELL NO!#hijabiXmona #wrapmyhijabhttps://t.co/dGy6ITdwO6

— Affy Bhatti (@affyb79) April 4, 2017
Sooooo good 👊🏽🙌🏾☝🏿✊🏼🙏🏻https://t.co/N4dDk25PRx#hijabiXmona #wrapmyhijab pic.twitter.com/ZULlVuSxHg

— Blanca Miller (@beequitas) April 4, 2017
#hijabiXmona love love love love! You go girl!!❤❤✋🏻

— Sally Al-Shamali (@ShamaliSally) April 2, 2017
And although her video has sparked some controversy, Haydar says she's focused on staying positive and spreading a message of love and inclusivity.
"Of course I have conservative Muslims, Islamophobes, Internet trolls, and your general run-of-the-mill haters coming at me. They're coming at me from all sides but I'm doing my best to stay positive and focused on my goal which is to speak truth and spread love," she told Buzzfeed.
I guess it goes out to the Muslims too. Even if you hate it, I still wrap my hijab! AND exist as a Muslim! Even if U don't recognize it! ❤️

— the most mona (@mona_haydar) March 28, 2017