A journalist in Syria captured the terrifying moment an airstrike hit a hospital where patients were being treated after a reported gas attack earlier the same day.
Fadi al-Halabi, Abd al-Kader Habak and Yaman Khateeb were at a hospital in Khan Shaykhun, where at least 58 people were killed and hundreds injured early Tuesday morning from a suspected chemical attack, according to BBC News.
As the men filmed a report from the hospital, the camera shook, shouts rang out and the screen went dark (watch the video above).
They posted a short video to Facebook following the attack, to let people know they were safe.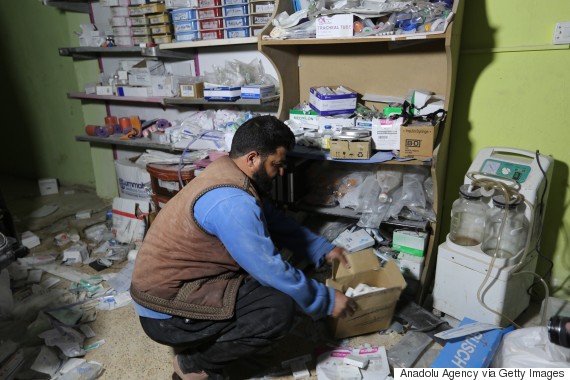 This hospital was one of two hit by airstrikes in Khan Shaykun in Syria on Tuesday. (Photo: Mohammed Karkas/Anadolu Agency/Getty Images)
The province of Idlib's regional health agency issued a statement on Facebook condemning the attacks as a "major war crime."
The organization said hundreds were injured with symptoms consistent with chemical weapon exposure, and that many more were likely to die after the subsequent air strikes against two of the area's hospitals, leaving the few remaining medical centres dangerously overcrowded.
One 14-year-old resident of the town was on her way to an exam when she watched a bomb fall on her street. She saw people drive up in cars to help the wounded.
"When they got out, they inhaled the gas and died," Mariam Abu Khalil told the New York Times. "... I could tell they were suffering."
Civilian areas in Khan Shaykhun were targeted with poisonous gases this morning. Initial rprts of 50 killed incl wmn & chldrn, 300+ injured. pic.twitter.com/ZQ6MAgsqNO

— The White Helmets (@SyriaCivilDef) April 4, 2017
Photos and videos of the early morning attack show limp bodies of children and adults, many of whom were foaming at the mouth. Videos captured by doctors at the scene showed victims with "pinpoint pupils," a sign of exposure to toxic chemicals or nerve gas.
Both Russia's Defence Ministry and Syria's military have denied that chemical weapons were used against civilians, according to The Associated Press.
A 2016 United Nations report found that chemical weapons have been used in at least three attacks by Syria's government since 2014.
With a file from The Associated Press
Follow The Huffington Post Canada on Facebook, Twitter, and Instagram.
Also on HuffPost
7 Deadly Threats Facing Innocent Syrian Civilians