David Thomson/Facebook
Talk about making the best out of a bad situation.
Fed up with the epic amount of snow that's battered his small town of Lewisporte, N.L., 14-year-old Austin Thomson channelled his weather frustration into musical inspiration.
Over the weekend he penned the song "I Really Hate Snow" and he and his dad, David, decided to perform it in a snowbank on Monday.
"We were out shovelling this massive amount of snow when I told Austin to go grab his guitar because I couldn't stop humming his song," David told HuffPost Canada about their impromptu performance.
"My shovel works most of the time — except when we get 563.77-rounded-to-the-nearest-decimal-point centimetres of snow," sings the guitar-strumming teen, while his dad picks away on his accompanying banjo, snow squalls blowing around them.
It's an appropriate anthem for any Canadian feeling down about our often terrible winter weather — but especially apt for folks in some parts of Newfoundland, whose start to spring has been marred by more than 100 centimetres of snow in recent days.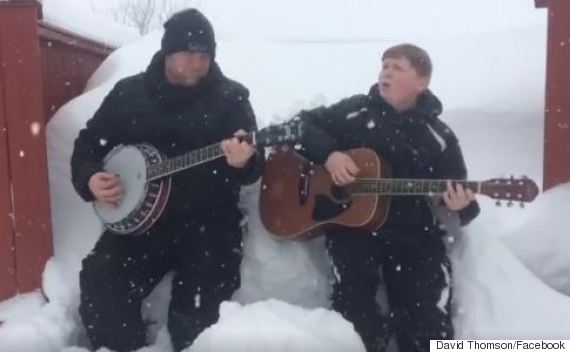 The father-son duo have been writing silly songs and playing music together for 10 years. (Photo: David Thomson/Facebook)
"I guess it wouldn't be so bad if we had a snowmobile or a snowblower," said David. "But we don't really have any of the toys — we're more a family that hibernates."
Since recording their Facebook Live session, the talented duo's video has been shared far and wide, with people from all over the planet sending warm vibes via the comments.
"It's mind-blowing," said Austin of the attention the song has attracted, saying he loves hearing from people as far away as Hawaii and Australia.
"I've had people write to say the song made their day, which is really cool."
Check out their catchy tune in our video above, and follow Austin's musical adventures on his Facebook page.
Follow The Huffington Post Canada on Facebook, Twitter, and Instagram.
Also on HuffPost