CP
Candice Bergen called the prime minister "arrogant" on Tuesday after the Liberals voted against an opposition proposal requiring all-party support when it comes to changing the rules of Parliament.
The Conservative MP told reporters in the House of Commons the vote was "truly regrettable," adding the move confirmed the Liberals' "intention to run roughshod" over the opposition's role of holding the government to account.
"Justin Trudeau is not entitled to just arbitrarily make changes to the House of Commons rules," she said. "So we actually are very frustrated and upset with what they're doing."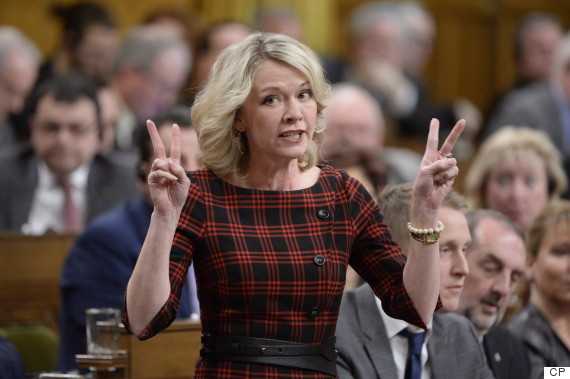 Conservative MP Candice Bergen asks a question in the House of Commons on March 22, 2017. (Photo: Adrian Wyld/The Canadian Press)
After a week-long break, MPs resumed a political standoff in the House over the government's proposed changes to the Standing Orders — the permanent rules that guide how laws are passed in Parliament.
"This power-grab by the government dressed up in polite words like modernization has to be seen for what it is," said NDP MP Murray Rankin, who appeared alongside Bergen to speak to reporters.
It all started after Government House Leader Bardish Chagger released a discussion paper last month proposing ways to modernize the House.
Shortly after, Liberal MP Scott Simms introduced a motion for the Procedure and House Affairs Committee (PROC) to study the matter and make recommendations by June 2 — just before the summer break for the House.
To protest that move, the opposition MPs started a filibuster on March 21 to stop the Liberal-majority committee from passing Simms' motion. They object to the lack of a government commitment to preserve unanimity on any proposed changes to the Standing Orders.
Canada's parliamentary system works best if there's a healthy opposition, NDP MP and PROC vice-chair David Christopherson told The Huffington Post Canada's politics podcast, Follow-Up.
"If we lose this filibustering argument, we may lose the ability and the right to filibuster forever. It's that serious," he said.
Listen to Follow-Up: The Showdown on Standing Orders:
"If you're going to change the way you pass law, then it should be with all-party support, not skewed in favour of the government of the day," he continued.
"It needs to be a system that'll work no matter who's in government."
The PROC meeting is scheduled to resume Wednesday.
Also on HuffPost