But, being the patriotic, hockey-loving guy that he is, he selflessly offered his Division 9, beer league hockey team to fill the Team Canada spots left empty by Sidney Crosby, Nathan MacKinnon, Carey Price and others.
The Citizens, who finished sixth out of eight teams this season, have a record of 14 wins and 14 losses.
"Since we're from Calgary, Hockey Canada could save on travel costs for training camp," he wrote.
"In fact, training came may not be necessary, as our current warm-ups consist of unorthodox drills like 'winded from walking to ice,' 'the broken windmill,' and 'who hit Pat in the head?' (FYI — Pat is our goalie.)"
But there's one skill that really sets the team apart.
"Win or lose, we're always able to go and eat wings and drink beer after every single game," Kemp told The Huffington Post Canada on Thursday.
Click for full size copy of Kemp's letter.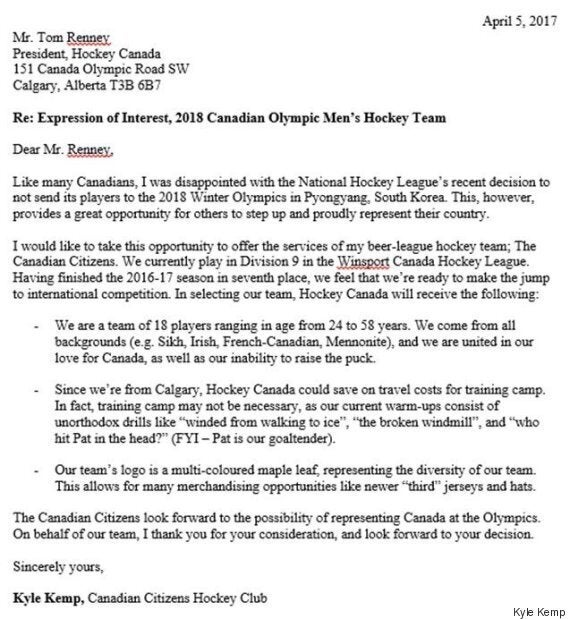 Sales at the gate have been a bit slow for The Citizens this season, Kemp continued.
"We get amped up when our kids and wives show up and actually stay the whole game" — so a trip to South Korea in 2018 could be a good morale boost for the team, he added.
He said The Citizens are well-representative of Canada's diversity, with a mix of Mennonite, Sikh, Irish and French-Canadian players that range in age from 24 to 58.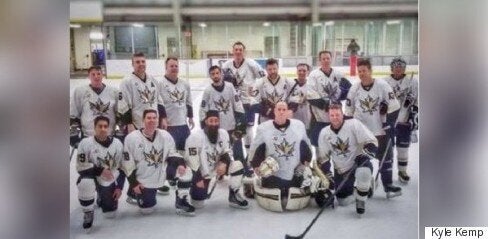 "When the team was formed 10 years ago, some of the players had never played before. I think some of them responded to an ad on Craigslist or Kijiji."
Clearly, this is a team that is on the up-and-up and only has room for improvement. A coach's dream, basically.
Kemp has yet to hear back from Hockey Canada, but at least one team to the south has thrown their puck on the ice and offered to field players for Team U.S.A.
Aaron Risdal, a player with the Lower League C Cluster Pucks in North Virginia, says his team's pre-game ritual of cigarettes and beer in the parking lot has proven results — mostly in the form of skating around aimlessly and sometimes shooting the puck in the general direction of a net.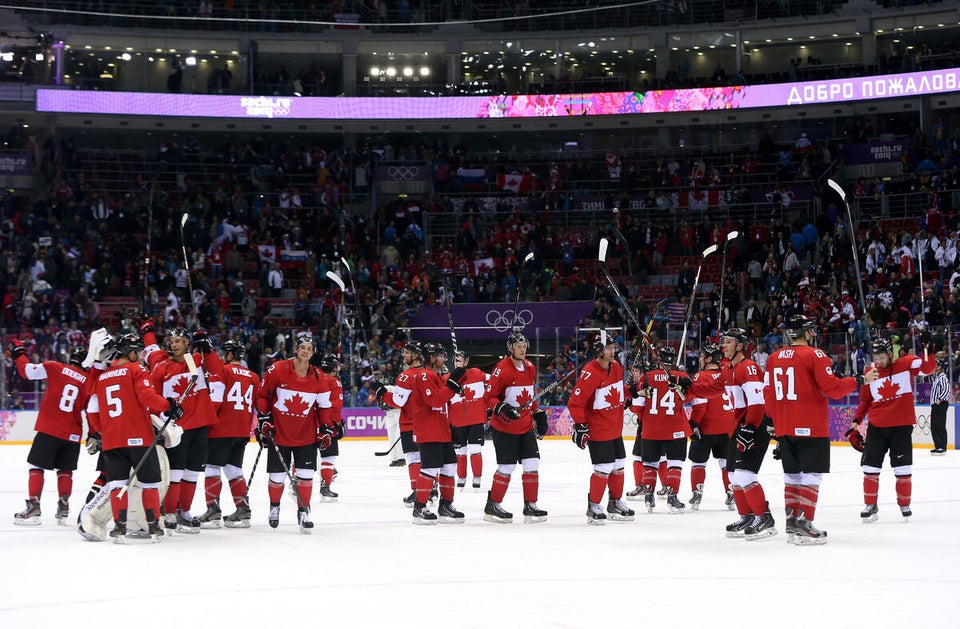 Sochi 2014: Team Canada vs. Team USA