Fashion blogger, Kate Urbanksa, proves you don't have to have Kate Middleton's $54,000 fashion budget to pull off her classic style.
"I want to share with you, my love for being a REPLIKATE," Urbanksa wrote on her blog Great RepliKate last summer. Though the 29-year old beautician wears real designer duds like The Duchess, Urbanska gets hers on a much more modest budget.
"It doesn't matter whether I'm on the bus or waiting in line for something, whenever I have a spare moment, I'm always checking the different sites," she told The Daily Mail.
Thanks to her thrifty ways shopping at sites like eBay and AliExpress, Urbanska has managed to score outfits like Kate's £640 Alexander McQueen red pleated dress for a nearly identical replica priced at only £102.
"Many people do know Duchess Kate and they know her outfits very well," Urbanska wrote while modelling a replica of the Duchess' Naeem Khan dress. "Why am I so sure about that? Because they were staring at me :)"
The Kate Effect all started with the iconic navy Issa dress the Duchess wore to announce her engagement to Prince William. Less than 24 hours after the engagement news broke, the dress disappeared off retailers' shelves and similar designs sold out across 43 countries.
Seven years later, the Duchess is still one of the world's leading fashion influencers, with her sway estimated to be worth a whopping £1 billion in the U.K.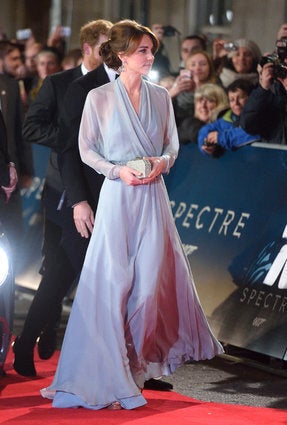 Kate Middleton's 34 Most Stylish Looks