"No one is ever obligated to find you attractive. Stop it, already," one person said.
"Fat will always be gross, because it's unhealthy and unattractive," another added. "No matter how much you push the idea that obese bodies are normal, healthy and flattering, reality says otherwise. You should be ashamed to try and push a disease as being sexy."
Luckily, other commenters weren't afraid to put the trolls in their place.
"Sexy is a personal thing," someone wrote. "While one person may not be attracted to plus size women another may only want that extra cushion and not feel any attraction toward thinner or athletic types. It's ridiculous to try to make everyone buy into similar ideas of what is sexy. Variety in taste is what makes the world interesting!"
Nonetheless, the hateful words inspired Delarato to turn their comments into something impactful. And that's how The Comments Project was born.
Sharing the art on Instagram, the 30-year-old places comments she received from the video, along with some she's gotten from men on dating websites on top of her body.
"Being body positive and putting that out in the world, you'd be shocked about how much hate I get back," Delarato tells Refinery29. "It's so isolating to sit alone and read that. So I refuse to let this go unnoticed."
Thankfully, it doesn't look like the remarks seem to phase Delarato in the slightest, as proven by the captions on her pics.
"When I look in the mirror, I see the ultimate hot as fuck #plussize dream girl who can squat 180 lbs, deadlift 240 lbs, warrior pose with the best of them, run a 8-10 minute mile, dresses like a champ, dates like a queen and who values kindness above all," she writes.
"Next time you want to come at me with some comment about my health, go to school, get your medical degree, start a practice, call me for a check up, and tell me that I need more sunlight because vitamin D deficiency is the only health problem I currently face," she adds. "If you don't see me the way I see myself then that is tragic for you."
You better tell 'em, girl!
"I've lived the torment of the names," the 29-year-old told the publication. "I've lived the torment of boyfriends breaking up with me because they were afraid I was going to be too fat later in life."
"I wake up sometimes and I think 'I'm the fattest woman alive,'" she also revealed. "But it's really about how you handle it when you wake up. I look in the mirror and I have my affirmations. And mine are simple. [I say] 'You are bold. You are brilliant and you are beautiful.'"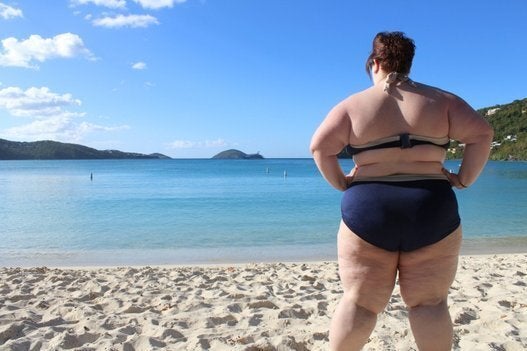 We Exist: Diversity In Plus Size Bodies