SHAWINIGAN, Que. — The suspect arrested in connection with the slayings of three women in the city of Shawinigan knew the victims and will appear in court Thursday afternoon, said Quebec provincial police.
Police arrested the 51-year-old man Thursday morning at a gas station north of the city.
While the exact timeline of events is still not clear, police said two women were killed in one residence and a third woman was killed in a nearby home located 170 kilometres northeast of Montreal.
An 80-year-old man was wounded in one of the homes and was able to flee and alert a neighbour. He was then taken to hospital with non-life threatening injuries.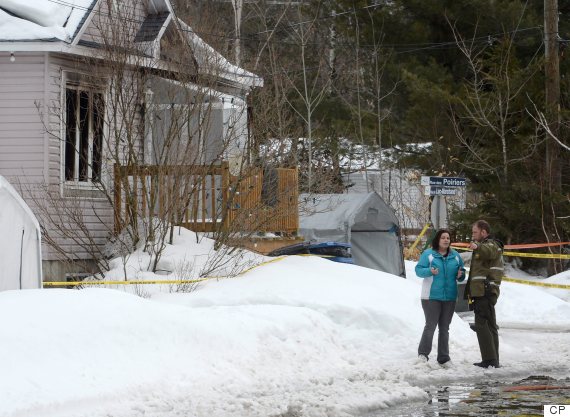 A police officer talks to a woman as they investigate a crime scene after three women were killed in Shawinigan, Que., on April 6. (Photo: Ryan Remiorz/The Canadian Press)
Provincial police spokesman Marc Tessier said the victims were 56, 61 and 70 years old.
He said the suspect and the victims knew each other, but would not elaborate.
"I can confirm the suspect knew all the victims, but right now it's too early to determine who is who," Tessier said in a phone interview.
The suspect attempted to start fires at both residences, Tessier said.
Details on deaths unclear
Police would not say how the victims died, nor whether a weapon was used.
A large security perimeter blocked off the gas station where the suspect was arrested.
The grey compact car police said he had been driving was towed after it was searched by investigators.
Police spokeswoman Annie Thibodeau said the suspect was still being questioned by investigators as of late Thursday morning.
'A terrible tragedy'
Quebec's minister for the status of women offered her condolences to the families of the victims.
"We're lacking information on the circumstances but, of course, one woman who is the target of a murder like this is one woman too many," Lise Theriault said.
Public Security Minister Martin Coiteux described the events as "a terrible tragedy."
"Three people lost their lives, so first and foremost my condolences go out to the families of the victims," he said.
"Fortunately, the (provincial police) were able to very rapidly proceed to the arrest of the main suspect, and the investigation is ongoing."