The MTV Movie Awards as you know them will soon cease to exist.
This year's show, which is set to air live from the Shrine Auditorium in Los Angeles on May 7, 2017, is undergoing a major revamp, from its title to its categories.
Now known as the MTV Movie & TV Awards, this year's show not only recognizes television series, it will also pit male and female actors against each other in their new, non-gendered acting categories.
That means "Stranger Things" star Millie Bobby Brown, for example, is going head-to-head against "The Walking Dead's" Jeffrey Dean Morgan for Best Actor in a Show.
"We have to constantly be pushing ourselves to not only respond to culture but lead it," MTV president Chris McCarthy told CNNMoney on Thursday. "If we're going to do an award show that celebrates content, why would we not modernize what that looks like?"
Though eliminating gender-specific divisions does reduce the list of potential nominees (generally there were six people nominated in each one), MTV has apparently countered that by introducing new categories that include both film and TV, like Best Tearjerker, Best Duo, Best American Story and Best Fight Against The System.
Once upon a time, a "Best Fight" award was very much focused on an action sequence, but these days McCarthy says the fight is more about activism.
"Today, we see what's happening — whether it's Black Lives Matter, the Women's March. Young audience members are reviving an activism voice that we haven't seen in years, and we want to celebrate that and encourage it."
"A great performance is great regardless of gender and we think that dropping the male/female division has made the drama performance category more exciting," Kim Turberville, executive producer and founder of the NTAs said.
Even North American TV's biggest award show, the Emmys, was once gender neutral. The division only began in 1951, when awards for lead actor and actress were handed out, Variety reports.
We couldn't think of a better time to bring back gender-neutral awards. And hey, if it cuts down on the length of the show too, we're all the more for it!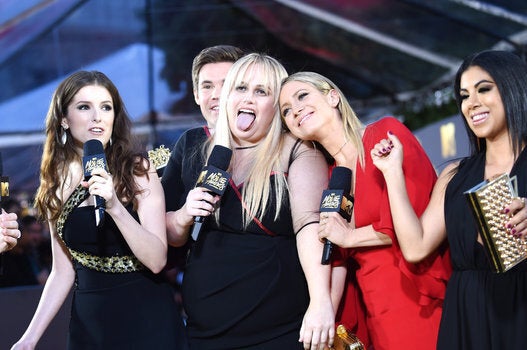 2016 MTV Movie Awards Red Carpet