ARRAS, France – Prime Minister Justin Trudeau has visited the scene of one of Canada's most iconic moments during the Second World War – Juno Beach – and called on the international community not to repeat the "terrible mistakes" of the past.
In June 1944, thousands of Canadian soldiers stormed ashore at Juno Beach into northern France alongside British and American troops during the invasion of Normandy.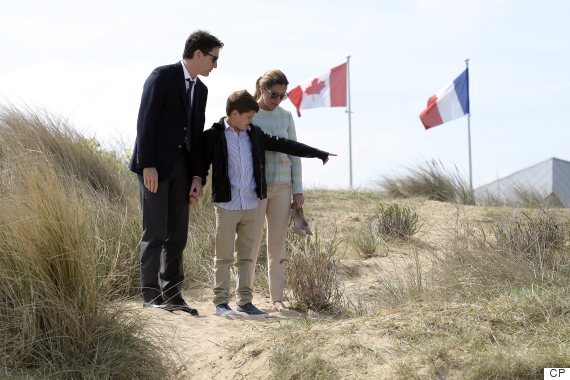 Prime Minister Justin Trudeau, left, Sophie Gregoire-Trudeau, right, and their son Xavier visit Juno Beach in Courseulles-sur-Mer, France, on April 10, 2017. (Photo: Adrian Wyld/The Canadian Press)
It was a pivotal moment in the Second World War, as the allies were able to establish a beachhead and begin to push the Nazis back to Berlin.
But like Vimy Ridge during the First World War, the Juno Beach gambit also came at great cost as 340 Canadians were killed in a single day, and another 574 wounded.
Trudeau says visits to sites such as Juno and Vimy are necessary the help ensure "we are mindful and careful that those sacrifices are not in vain, that we learn from the blood spilled here."
Trudeau's decision to visit Juno after Vimy came as a bit of a surprise to some, given the two battles occurred during different wars, but officials say the prime minister's trip to France is intended to honour the sacrifices of all Canadian soldiers.
"We must work hard together to prevent the scale of losses that we saw throughout the 20th century," Trudeau said.
"The raging civil war in Syria, the violent conflicts around the world require an international community that pulls together, that holds each other to account and that strives every day not to repeat the terrible mistakes of the past," he said.
Also on HuffPost
Archival Photos From World War II