The Anne Frank Center For Mutual Respect has a message for U.S. President Donald Trump: It's time to fire Sean Spicer.
Dedicated to promoting civil and human rights, the centre issued a statement in reaction to the press secretary's claim that Adolf Hitler didn't use chemical weapons during the Holocaust — a remark that left the world bewildered and furious.
During his daily news conference at the White House Tuesday, Spicer compared the German dictator to Syrian President Bashar Assad, saying that Hitler "didn't even sink to using chemical weapons."
But Hitler did. Again and again. In fact, about three million Jews were gassed in extermination camps, according to the U.S. Holocaust Memorial Museum.
.@POTUS @realDonaldTrump MUST FIRE SEAN SPICER NOW FOR ENGAGING IN HOLOCAUST DENIAL. OUR STATEMENT BELOW. #Antisemitism #NeverAgain pic.twitter.com/4dB9ESCaZr

— AnneFrankCenter(US) (@AnneFrankCenter) April 11, 2017
"On Passover no less, Sean Spicer has engaged in Holocaust denial," the organization's executive director Steven Goldstein said in a social media post.
"Spicer's statement is the most evil slur upon a group of people we have ever heard from a White House press secretary," he continued, adding that Spicer should no longer represent the government.
Many others echoed the organization's call for Spicer to be ousted, including U.S. House Minority Leader Nancy Pelosi.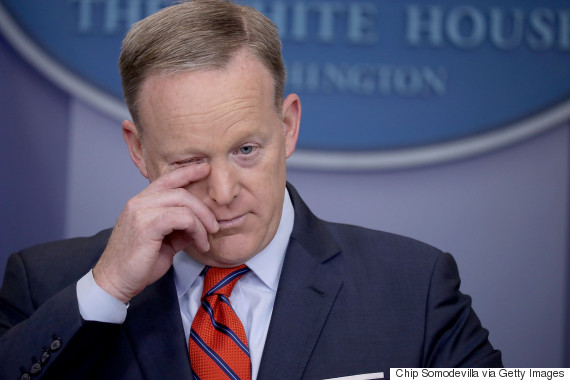 White House Press Secretary Sean Spicer answers reporters' questions during the daily news conference on April 11. (Photo: Chip Somodevilla/Getty Images)
"Either he is speaking for the president, or the president should have known better than to hire him," she said in a statement.
The press secretary addressed the controversy in a CNN interview hours later.
"I mistakenly used an inappropriate and insensitive reference to the Holocaust, for which frankly there is no comparison. And for that I apologize, it was a mistake to do that," he said.
Also on HuffPost
Holocaust survivor reunited with rescuer