Mind the gap. No, seriously. It's a pretty big one.
Sydney Trains, the rail network that serves the Australian city and surrounding area, released a scary video to warn parents to be careful with their children when they board and get off trains.
In the January 2016 incident, two-year-old Ayden was about to walk on a train with his grandparents and their other grandchild at Cronulla Station when the toddler disappeared through the crack between the platform and train, according to 9News.
The grandparents waved their hands for help before the boy's grandfather, John Brewster, managed to grab his hands and pull him out.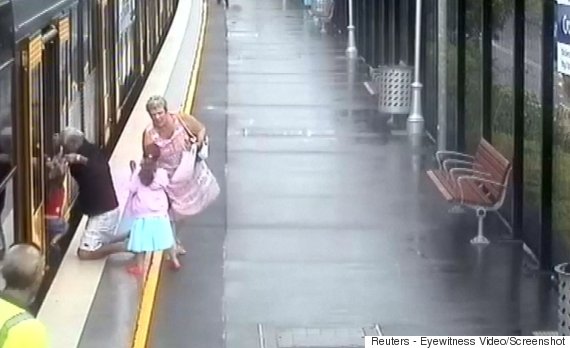 John Brewster pulls his two-year-old grandson Ayden off the train tracks in a scary incident from 2016. (Photo: Reuters - Eyewitness Video/Screenshot)
Brewster told 9News that it all happened so fast, and he's thankful Ayden didn't hit his chin on the track and break his neck.
"It took years off my life. I'll never forget it," he said.
Sydney Trains put out other videos to warn parents. In an incident from last October, a girl holding hands with an adult fell into the gap, according to the Daily Telegraph.
Passengers rushed to notify the train conductor to keep it still while the woman pulled the girl back up.
According to data from the transit authority, 223 children fell underneath trains last year and 81 were hurt. The total number of incidents dropped from 2015, but 2016 also saw an increase in injuries.
Sydney Trains warned parents to hold their child's hand and not to rush.
We have to say, though, that the gap looks pretty large, and there are ways to cut out this hazard completely. Many cities in Asia and Europe have screen doors at their train stations that prevent people or objects from falling onto the platform.
That technology will be a part of Sydney's new rail system, which is currently under construction. There's no word on whether the train station where the boy fell will get an upgrade.
Brewster told 9News he's stunned the transit authority hasn't found a way to resolve the problem.
"I look at those gaps now and just shake my head and it runs through my mind."
You can see the terrifying footage in the video above.
Follow The Huffington Post Canada on Facebook, Twitter, and Instagram.