Online shopping has made it easier than ever to keep weird purchasing habits private. But research from real estate company Estately gives us a glimpse into Canadians' wacky shopping searches.
The site looked at Google Trends to measure Canadian Internet searches with Google Shopping, and compared the results to find out what items each province or territory searched for more frequently than other regions. We're not sure how exact the methodology was, but the results are definitely worth a laugh.
Some of the findings are pretty reasonable — B.C., Canada's most earthquake-prone province, had the most searches for earthquake kits. But it also topped the chart when looking for shark costumes, leg warmers, vape juice and wine fridges (who wouldn't want to go to that party?)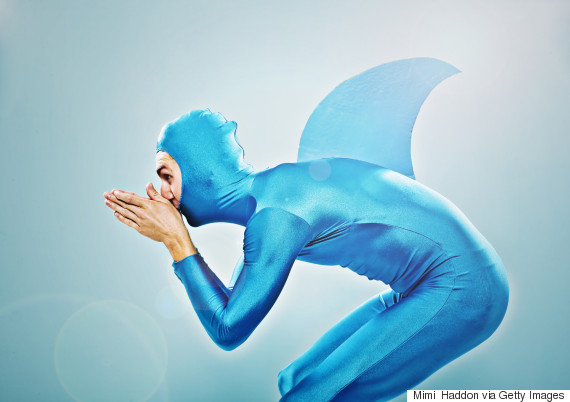 What are you doing, B.C.? (Photo: Getty)
Newfoundlanders searched for cargo pants, cowboy hats and handguns, but they couldn't out-cowboy Albertans, who had the most searches for bolo ties, butter churns and moonshine stills.
But the wackiest search history might go to Canada's smallest province, P.E.I.
Islanders searched for: glitter, confederate flags, Magic: The Gathering cards, thongs, the Bible, fishing poles, Beanie Babies, bagpipes and snowblowers, just to name a few.
As Estately put it, "the results are either quite fascinating or mildly disturbing."
The company previously blogged about how likely each Canadian province is likely to survive a zombie apocalypse. Ontario fared poorly, which might be why so many Ontarians searched for a zombie survival kit online.
Take a look at a few of the top searches in Estately's map and the slideshow below: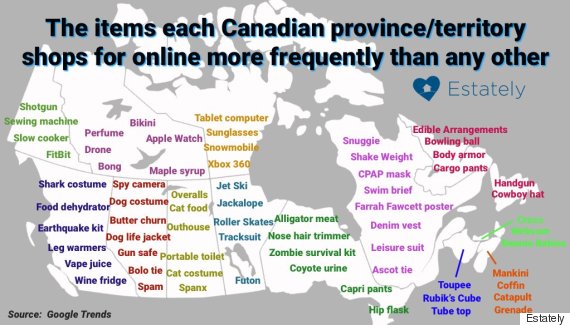 Canada's Weird Online Shopping Habits, By Province
Follow The Huffington Post Canada on Facebook, Twitter, and Instagram.