Queen Elizabeth II is a woman after our own heart. According to the Evening Standard, the 90-year-old has come up with an ingenious hack to break in her shoes and avoid painful blisters.
The solution? She's hired someone to break in her new kicks for her.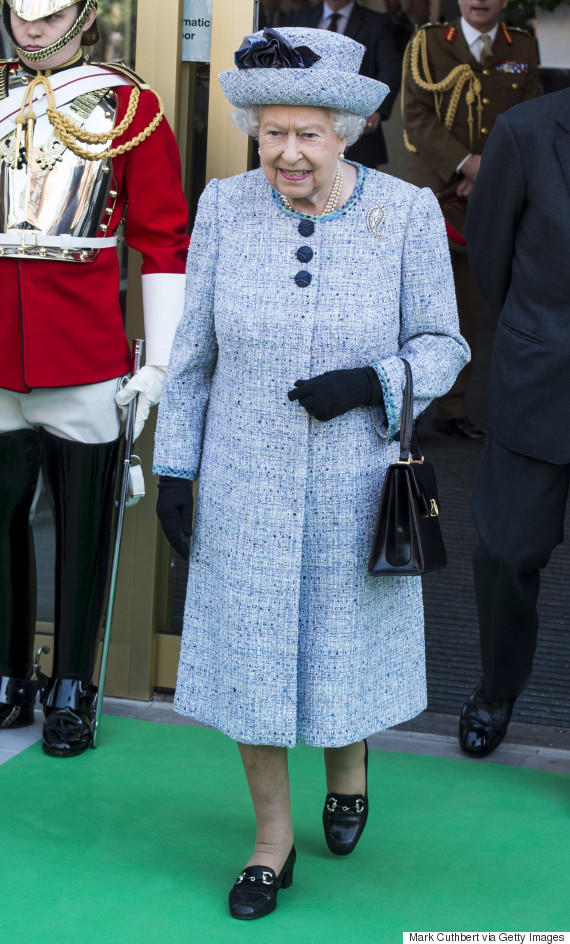 Queen Elizabeth II leaving London's National Army Museum in March.
Stewart Parvin, the Queen's wardrobe designer for the past 11 years, admitted to the Standard: "The shoes have to be immediately comfortable... she does get someone to wear them. The Queen can never say, 'I'm uncomfortable, I can't walk anymore.' She has the right to have someone wear them in."
The person hired to break in Her Majesty's footwear must follow certain rules. They must always wear beige ankle socks, for instance, and are only allowed to walk on carpet in Buckingham Palace during the "breaking in" period.
Her Royal Highness is a U.K. size four (U.S./Canada size 6) and is known for wearing patent leather slip-on shoes by Anello & Davide.
On Twitter, fans praised Her Majesty for her genius shoe hack:
bes thing av heard all day is that the queen gets someone to break in her shoes for her for 4 week so she dunt get blisters 😂😭😂😭

— evë (eevee) (@Evee_Barker) April 11, 2017
Like the queen, I need to get someone to break into my new shoes for me

— ilikeapenguin (@mannii_x) March 30, 2017
Considering Queen Elizabeth has far more important things to worry about than blisters — such as her adorable grandchildren — we don't blame her for hiring help!
Also on HuffPost
Queen Elizabeth II Becomes Britain's Longest Reigning Monarch