The weather is getting warmer and we can't wait to finally enjoy the fresh air and sunshine. But as much as we all yearn for those hot days, let's face it, not all kids love the outdoors. Perhaps they are not naturally sporty or they prefer their beloved Xbox games, but it can be tough to make some kids get outside and be active.
According to reports, Canadian children have become more sedentary in general. The 2016 Participaction Report Card says children should get one accumulated hour of heavy sweat-inducing exercise a day in addition to several hours of light activity. (However, a new study found that kids need just 10 minutes of intense activity a day.)
Turns out, only nine per cent of kids get the proper amount of exercise, and only 24 per cent of five- to 17-year-olds meet the Canadian Sedentary Behaviour Guidelines recommendation of no more than two hours of recreational screen time per day, with the average five- to 17-year-old Canadian spending 8.5 hours being sedentary each day.
If you're looking for some ways to get your kids moving and active without having to invest hundreds of dollars on a backyard trampoline or pay for equipment, try some of these!
1. Walk to school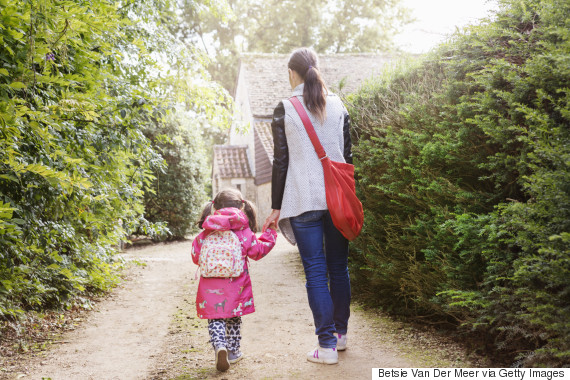 It's convenient and faster to drive your kids to school but the Participaction report recommends making it a habit to walk to and from school, which would make a big improvement in your children's activity levels.
A walk can be used for special downtime with your child; to make it fun, perhaps the two of you could play eye-spy or "twenty questions" along the way. After school, nibble on a snack as you walk and hear about their day or just unwind from a day of learning. Kick a rock, sing a song together. Make it fun.
2. Neighbourhood games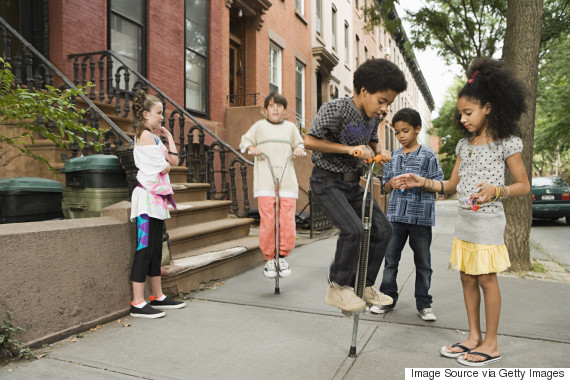 Invite your neighbours to play kick-the-can, capture the flag, or flashlight tag for older kids. Offer some drinking boxes and invite the parents to hang out while the kids play or turn it into an all-ages game. Another idea is to get your neighbourhood to start a broomball league. What a great way to get fit and build up a strong community feeling!
3. Take over the park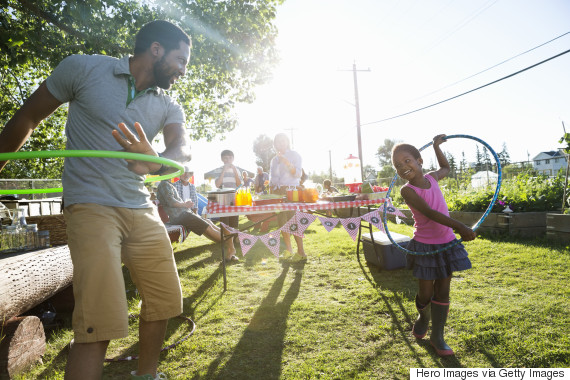 Pack a picnic and camp out on a blanket in your local park. Load up a bag with Frisbees, baseball gloves and balls, bubble wands, badminton rackets and anything else you have kicking around collecting dust in the basement. If you leave the electronics behind, I promise a game will spontaneously break out.
4. Check out your rec centre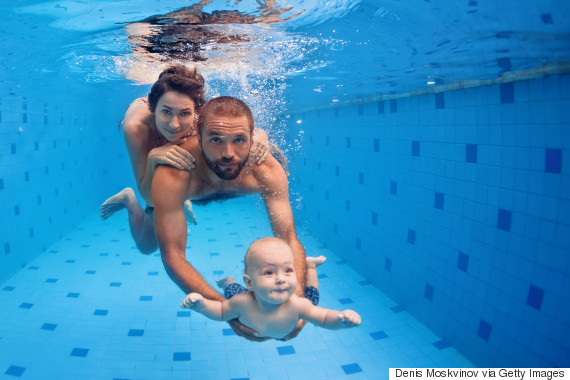 Many community recreation centres have free or cheap activities for all ages. From swimming with water slides to family table tennis and wall climbing, you may find something for everyone there. In fact, some programs are drop-off programs so you can run an errand or meet a friend for coffee while they burn some energy.
5. Discover a cycle path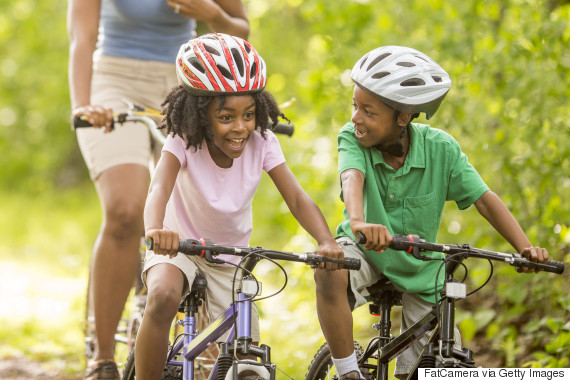 Cycling with kids in traffic can be harrowing, but many cities have bike paths through nature that are well maintained and car-free. Some kids may prefer rollerblading, scooters or long boards. If it rolls, roll with it. Don't be shy about asking neighbours to borrow or swap equipment.
Teaching your children about sharing is a great lesson in generosity and being a good neighbour.
6. Go on a forest hike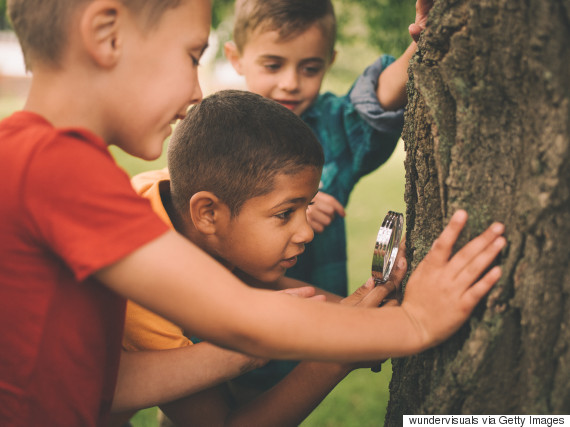 Most cities have some green space for exploring, so check the local city website for locations near you. Kids love a good scavenger hunt so get them to research all the things they might find in a forest and then give each child a pail to carry and have them scout for each item on their list. For older kids, bring an identification book for local animal tracks or birds. If you have a pair of binoculars, bring them along!
Also on HuffPost
How To Handle Your Kids' Extracurricular Activities