The world's obsession with Canada's prime minister continues to grow — to the point that Justin Trudeau now has his own commemorative talking doll.
The Bradford Exhange is offering the "fully poseable" figurine for $130 — or three installments of $43.33 — and it comes with its own custom-fitted wardrobe.
We have to admit that the company did a good job. It really bears quite a resemblance to Trudeau: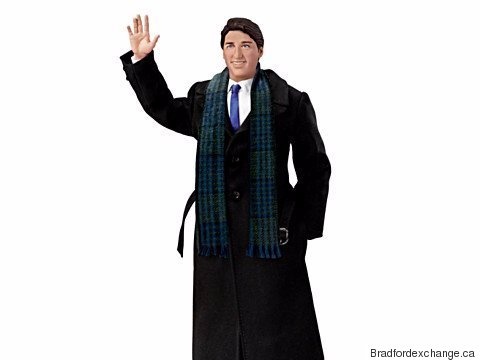 The talking part throws us off a bit, though. Apparently the adults-only doll (the website says it's "not intended for children under 14") utters Trudeau quotes, such as: "A positive, optimistic, hopeful vision of public life isn't a naive dream, it can be a powerful force for change," and "Canada is a country strong not in spite of our differences but because of them."
Does anyone else find this a bit creepy? Is the talking really necessary?
But then you take a step back and consider all the other homages to Trudeau that have made their way online and are available for purchase. And you realize that maybe a talking doll is the least creepy thing people have created when it comes to Trudeau merchandise.
From sleep masks, to one-of-a-kind works of art, here are some of the strange, weird and downright ridiculous prime minister-inspired items you can find online:
Photo courtesy of Vapor Central's Facebook page.

Photo courtesy of gringoheat

Photo courtesy of JDandKateIndustries

Photo courtesy of OliveHyssop

Photo courtesy of JUST3Js

Photo courtesy of Villamere

Photo courtesy of oneredpaperclip

Photo courtesy of TrueDoughPuppet

Photo courtesy of AniaOnionCreations

Photo courtesy of YourAuntiesPantiesHM

Photo courtesy of li

Photo courtesy of li

Photo courtesy of JUST3Js