Facebook has responded to a deadly shooting of an elderly man that was broadcast on its pages, calling it a "horrific crime."
Police in Cleveland are hunting Steve Stephens, a 37-year-old who allegedly posted a video of himself on Facebook shooting 74-year-old Robert Godwin Sr. on Sunday afternoon in the city's Glenville neighbourhood.
An edited, but still disturbing version of the video, can be found on the Cleveland 19 News website.
My sincere condolences to the family of Robert Godwin, Sr. Mr. Godwin meant so much to so many & will be missed. Praying for peace in #OH11. pic.twitter.com/V2iJ3m69Py

— Rep. Marcia L. Fudge (@RepMarciaFudge) April 17, 2017
About an hour after the shooting, police say Stephens broadcast an explanation of what he did on Facebook Live, in which he suggested he had killed a dozen other people in the area as well. Police say they found no evidence of other killings, Cleveland.com reports.
"This is a horrific crime and we do not allow this kind of content on Facebook," the company said in a statement issued to multiple news outlets. "We work hard to keep a safe environment on Facebook, and are in touch with law enforcement in emergencies when there are direct threats to physical safety."
Homicide Suspect Wanted (PHOTO) Steve Stephens  https://t.co/WlKymPrQX2 pic.twitter.com/GbkFia7yP6

— Cleveland Police (@CLEpolice) April 16, 2017
Facebook's policy is to remove content, disable accounts and work with law enforcement when it detects "genuine risk of physical harm or direct threats to public safety." It disabled Stephens' account after the Facebook Live broadcast.
But this policy is notoriously difficult to enforce, given the volume of content published on the site. Facebook itself has been heavily promoting the use of video on its site, changing its algorithm to favour video content hosted on its servers.
The incident comes as Facebook finds itself under intensifying scrutiny over the extent to which the site allows fake news and hate speech to proliferate.
Germany's cabinet recently approved a proposal to fine social media companies 50 million euro (C$70.7 million) if they do not quickly remove criminal content such as hate speech and "criminal false news."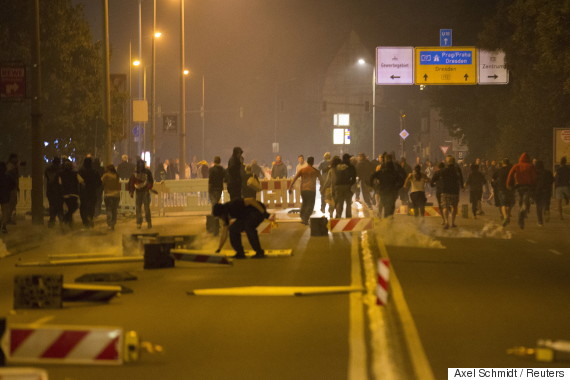 Right wing demonstrators who oppose bringing asylum seekers to Germany protest in the streets of Heidenau, Germany, Aug. 22, 2015. (Photo: Reuters/Axel Schmidt)
Authorities there have been concerned by an explosion of xenophobic sentiment online in the wake of the arrival of 1 million migrants from north Africa and the Middle East.
In the upcoming French presidential election, concerns have been raised that Facebook is aiding the spread of fake news. The company responded in a blog post last week, saying it's taking action against 30,000 fake accounts it has identified.
"We've made improvements to recognize these inauthentic accounts more easily by identifying patterns of activity — without assessing the content itself. For example, our systems may detect repeated posting of the same content, or an increase in messages sent," Facebook said in the blog post.
Also on HuffPost
5 Things You Should Never Post About on Facebook