OTTAWA — Defence Minister Harjit Sajjan's visit to his native India this week has run into controversy after one of the country's political leaders accused him of being a Sikh nationalist.
Amarinder Singh, the top elected official in India's Punjab province, where Sajjan was born, made the explosive accusation in an interview on Indian TV in advance of Sajjan's trip.
In the interview, Singh expressed anger over not being allowed to speak at political rallies in Canada last year before calling Sajjan and the other Sikh members of Prime Minister Justin Trudeau's cabinet "Khalistanis."
"I'm not going to meet him," Singh said. "There are five ministers who are Khalistanis and I am not interested in meeting any Khalistanis."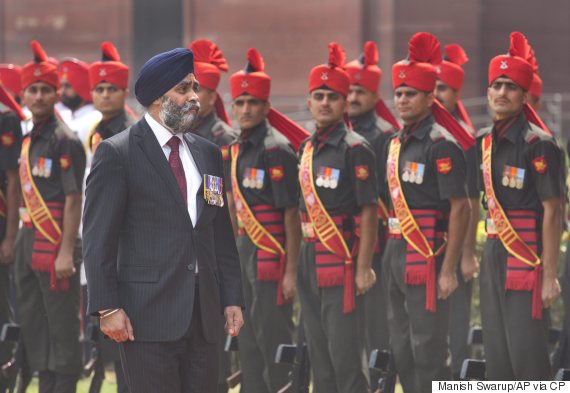 Defence Minister Harjit Sajjan inspects a tri-services guard of honour upon his arrival at the Indian Defence ministry in New Delhi, India on April 18, 2017. (Photo: Manish Swarup/AP)
The Khalistani movement is comprised of Sikhs who want to create an independent homeland and became synonymous with a wave of violence that swept across India in the 1980s.
Authorities believe Khalistani extremists were also responsible for the Air India bombing, the worst terrorist attack in Canadian history, which killed 329 people in 1985.
Indian authorities have since cracked down on the more violent Khalistani groups inside the country, but warned that the separatists continue to enjoy support in Canada and other places.
Sajjan's spokeswoman, Renee Filiatrault, refused to be drawn into a war of words with Singh on Tuesday, saying the defence minister's trip was intended to strengthen ties between Canada and India.
Sikh groups in Canada upset by comment
"Minister Sajjan is a proud Canadian, with a lifetime of service to Canada," Filiatrault said in an email, adding: "He is not scheduled to meet with any representatives from the Punjab government."
Sikh groups in Canada and India expressed shock and anger at Singh's comment, with some accusing the him of being undiplomatic and others accusing him of trying to distract attention from Punjab's economic problems.
Some noted that other senior Indian leaders, including Defence Minister Arun Jaitley, met Sajjan during the Canadian minister's visit, indicating they don't believe he is a Khalistani sympathizer.
Gurpatwant Pannun, senior counsel for the Toronto-based Sikhs for Justice, said the furor appears to have arisen because Singh was prevented from speaking at political rallies in Canada last year.
"Minister Sajjan is a proud Canadian, with a lifetime of service to Canada."
While Singh did not say during the TV interview why he wasn't allowed to speak, Pannun said his group raised the issue with the Liberal government in April 2016.
"To get support from the Sikh diaspora and collect funds, these leaders go to the United States and Canada," Pannun said, whose group wants a peaceful referendum on an independent Khalistan.
"But we found out there is a political law that you cannot address political gatherings. So we wrote to the foreign affairs minister."
Indian media have reported that the Canadian government warned Singh against attending the rallies.
Also on HuffPost
Current MPs With Military Experience (2016)