A mountain lion reportedly entered a California bedroom and dragged away a dog that was sleeping next to a mother and her child on Monday.
Victoria Fought was asleep at her home in Pescadero, Calif., with her 12-year-old daughter by her side, when she woke up to the sound of her dog, Lenore, barking.
"That's when I saw what I thought was our bigger dog walking in," she told NBC News.
Then, the dog went silent, and she saw the silhouette of a mountain lion leaving the back door. Big paw prints and a trail of blood were all it left behind.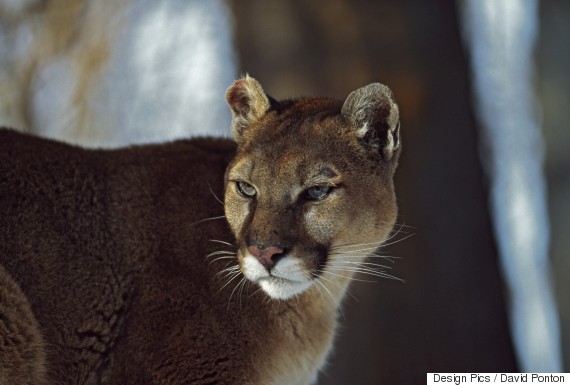 A mountain lion, like the one pictured here, reportedly stole a dog from a bedroom in California.
"They are very shaken up about what happened," Det. Salvador Zuno told The LA Times.
The mountain lion had slipped in through french doors that had been left slightly ajar.
Police searched the area, but were unable to track down either animal. They've warned Fought's neighbours to be wary and keep their doors closed, CBS News reported.
According to the Mountain Lion Foundation, the predators usually attempt to avoid people wherever possible. If the felines are having difficulty finding their natural prey — deer — the animals have been known to attack small pets, especially at night.
Follow The Huffington Post Canada on Facebook, Twitter, and Instagram.
Also on HuffPost
Cougar Chased Through B.C. Streets