Pro tip: If you hid hard boiled eggs in your home for your kids to find on Easter Sunday, make sure they were all found.
Last week, a Youtuber who goes by the name "Reddit McReddit," posted a video of himself probing a 9-year-old Easter egg he'd found in his parents' old furniture — and it's as vile as you might be imagining.
According to the description, the Youtuber's parents had some furniture in storage from mid-2008 until early 2017 and they "found an egg from our 2008 Easter-egg-hunt hiding behind couch cushions."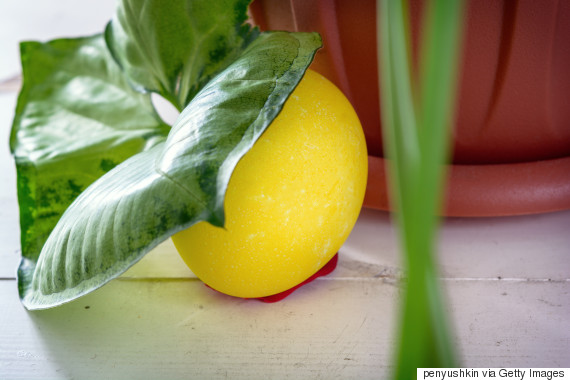 Now instead of just throwing it out, this person thought it would be a good idea to see what the egg's insides were like after all these years. Who wouldn't, right?
At the beginning of the video, he's seen grabbing the egg and shaking it, saying "the inside has turned into a rubber ball."
The Youtuber continues by poking the egg with a butter knife before violently jabbing it to the point of explosion. Due to the shaky camera work, it's hard to understand what's happened, but what's left on the kitchen counter is assumed to be the inside of the egg.
All green and speckled, you can practically smell its raunchy stench from here. You can even hear a person in the background coughing and yelling "it stinks, it stinks."
The video has racked up over a million views already and people just can't seem to stop watching it. Naturally, a lot of the comments were equally as amusing.
"The inside has turned into a rubber ball."
While some people were cracking jokes like, "But how did it taste?," many others seemed confused as to why real eggs were used for Easter egg hunting.
Apparently not everyone is aware that it's not just chocolate eggs that are part of the Easter tradition — hard-boiled options are meant to symbolize the resurrection of Jesus Christ, according to The Spruce.
So if you're prone to misplacing anything you've hidden for Easter, we're going to suggest opting simply for the toys. It might be fun to watch, but you do not want that nine-year-old egg smell anywhere near your house.
Also on HuffPost