There's no end to the books that are about mothers and their kids in the children's aisles of bookstores, but once you get to grown-up novels, the lines get blurred.
There's no section for "great books about being a parent" or "engrossing novels that delve into the relationship between a single mother and her son" — but those are totally books you would read, aren't they?
In honour of Mother's Day coming up on May 14, 2017 (and with gifts for mom at the back of our minds), we took a look at 12 great books that explore parenthood from a decidedly adult point of view, and are all the better for it.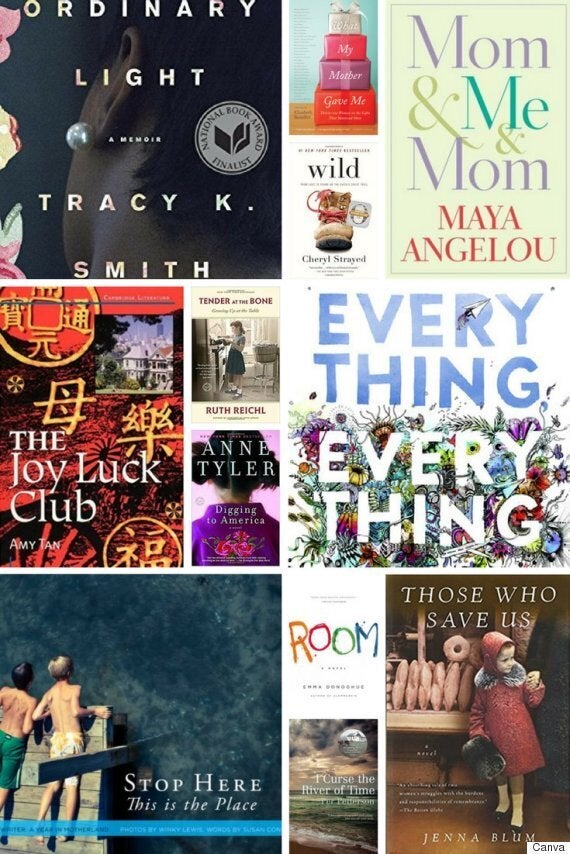 Angelou's relationship with her mother was fraught — she was sent to live with her grandmother from the age of three until 13 — and this book dives into that, as well as how she came to forgive and respect her again. It's a masterful work with the author's signature impeccable storytelling on gorgeous display.
Based primarily around the loss of her mother when Strayed was 22 and the subsequent solo journey she embarked upon, this book looks at what it means to be motherless, and at the same time, to really look at the impact a mother can have on your life. As she puts it so eloquently, "The death of my mother was the thing that made me believe the most deeply in my safety: nothing bad could happen to me, I thought. The worst thing already had."
This memoir has Smith looking back on her relatively comfortable life with her family and coming to terms with the struggles her parents had faced, including their involvement in the Civil Rights movement and her mother's cancer diagnosis, just as she is gaining her own independence.
Besides its most celebrated aspect — looking at how Chinese immigrants and their offspring can change over the course of a generation — Tan's book is an investigation of mothers and daughters, the memories moms leave behind once they go, and how the questions that weren't asked can haunt their children for a lifetime.
As much about being an adoptive parent as what it means to be an immigrant to North America, this book is fascinating in its interplay between two families who meet at an airport as their children are arriving from South Korea and continue to connect for years to come.
These 31 short stories from a huge variety of female writers talk about the various gifts their mothers have bequeathed to them over the years, and there's no better inspiration for telling your own mom just what she's given you.
While this YA novel may seem to be about first love, some of its most poignant moments develop around the mother-daughter relationship that informs so much of the plot. Even if your mom is well past dealing with those teenage years, she might appreciate the hindsight.
This "experimental" book came about through a collaboration with a photographer, Winky Lewis, and Conley, who are neighbours in Maine. Every week, Lewis sent Conley a photograph of their neighbourhood and the people (often kids) in it, and Conley would write a story about the picture. The book is an amalgamation of that work, combining Conley's nostalgic musings about childhood with her motherly thoughts about the kids she knows and is watching grow. It's a beautiful collection of a year in the life of everyday parents.
By this point, your mom may have already read this best-seller or seen the movie, but it's worth giving it a second look for the love it portrays between a mother and her son. Its strong plot, about a woman who is kidnapped, raped and forced to bear the child of her captor, makes the book a compelling read, but looking at it from the perspective of parenthood shapes the story in an entirely different way.
Love of food and love of family often go hand-in-hand, and for Reichl, former editor of Gourmet, it was where her passion for cuisine started. Though her mother was known as the Queen of Mold, Reichl nonetheless learned that feeding people helped reveal exactly who they were, and it played a huge role in their relationship.
Another novel exploring the fraught relationship between mother and child, this one looks at a mom and son against the backdrop of European communism in the '80s. As the main character's life unravels, he reconsiders how his mother shaped him, and exactly what she's meant to his life.
It's not the most touchy-feely mother-daughter relationship, but Blum's book, set between World War II Germany and present day, does an incredible job of exploring why parents might keep elements of their own past to themselves, and really, how distant personalities don't always reveal a coldness of heart.